The American Board of Internal Medicine (ABIM) offers certification in the subspecialty of Gastroenterology. There are a number of requirements before certification can be earned, including being previously certified in Internal Medicine by ABIM, demonstrating clinical competence, and owning a valid and unrestricted license to practice medicine. The certificate earned by those who pass the examination is valid for 10 years.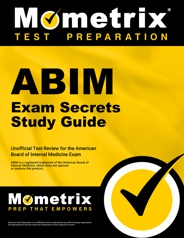 Prepare with our ABIM Study Guide and Practice Questions. Print or eBook. Guaranteed to raise your score. Get started today!
The examination lasts one full day. A variety of editions (also called "forms") are used on the exam and there may be a slight difference between them in question order and content. The exam consists of what is called "single best answer questions only." The questions contain a brief statement as well as a case history, graph, or picture followed by a question and a list of possible options. Although only one answer may be chosen, some answer options may be partially correct but not determined to be the correct answer.
Questions asked may include those pertaining to making a diagnosis, determining a treatment or management plan, ordering diagnostic tests, recognizing clinical features of a disease, or determining means of prevention, screening, staging, or follow-up.
There are seven different content categories covered on the exam: esophagus, stomach/duodenum, liver, biliary tract, pancreas, small intestine, and colon. With the exception of the liver section, which consists of 25 percent of the exam, each of the other sections counts for between 10 percent and 18 percent of the total exam. In addition, there are a variety of subcategories covered in each section.
Test takers either pass or fail the examination. Answers should be provided for all questions, as unanswered questions are scored as incorrect. The minimum passing score to receive certification reflects an absolute standard that has been established by the exam committee. A Score Report will be mailed following the examination but not for up to three months. Test takers will also receive an email notification that their results have been released, but not until they have also been mailed.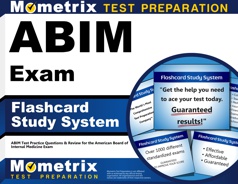 ABIM Flashcards. Proven ABIM test flashcards raise your score on the ABIM test. Guaranteed.
Copies of the report results will be maintained for two years following their release. Questions regarding the exam can only be submitted in writing to the ABIM and must be received within six months from when scores are released. From 2008 to 2012, the first-time pass rate for those taking the gastroenterology exam ranged from 89 percent in 2010 to 97 percent in 2009.
The gastroenterology exam is offered only twice every calendar year. Registration opens approximately six to eight months before the exam and closes approximately four to six months before the exam. The deadline for late registration is generally a month after the deadline for the initial registration period.
The deadline to cancel taking the exam is approximately one to two months before the exam. The cost to take the exam depends on whether test takers currently only hold certification in Internal Medicine or if they also have a subspecialty certification (in which case they will be charged slightly more). The fee is valid for 10 years and includes one secure examination and access to an unlimited number of self-evaluation products provided by ABIM. Those who need to re-take the exam are charged a fee less than the original enrollment fee.
Test takers are strongly encouraged to view the ABIM website in advance of taking the exam, which offers tutorials to view as well as practice exams and answer keys.
The exam is long and generally takes approximately 10 hours to complete. Test takers are given three optional breaks, and the four different sessions take up to two hours each, during which test takers will be asked a maximum of 60 questions (the total number of questions asked may differ slightly depending on which exam version is being taken).
On exam day, test takers should also prepare to take a tutorial (though this is optional), a pledge of honesty, and another optional survey at the end of the exam. Test takers are allowed to take virtually anything into the testing area with them, including all electronic devices, study materials, writing instruments, notes, wallets and purses, and food and drinks. Lunch can and should be brought to the testing center, but cannot be brought into the actual testing area.