The College Basic Academic Subjects Examination (CBASE) is administered to college students, especially those who are interested in teacher education programs. The CBASE assesses knowledge and skill in general subjects. The difficulty level of the questions is appropriate for undergraduates.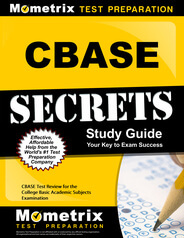 Prepare with our CBASE Study Guide and Practice Questions. Print or eBook. Guaranteed to raise your score. Get started today!
The CBASE consists of 180 multiple-choice questions in four content areas: English (41 questions), mathematics (56 questions), science (41 questions), and social studies (42 questions).
The English section of the CBASE focuses on reading/literature and writing. The reading and literature questions relate to critical reading, analytical reading, and understanding literature. The writing questions center on the writing process, the conventions of standard written English, and the written essay.
The mathematics section of the CBASE covers general mathematics, algebra, and geometry. The general mathematics questions include practical applications; properties and notations; and statistics. The algebra questions include expression evaluation and the solution of equations and inequalities.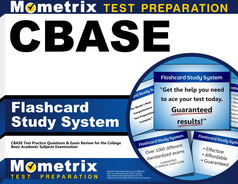 CBASE Flashcards. Proven CBASE test flashcards raise your score on the CBASE test. Guaranteed.
The geometry questions require knowledge of two- and three-dimensional figures and geometrical calculations. The science section of the CBASE covers laboratory and field work, as well as fundamental concepts. The laboratory and field work questions relate to scientific observation and experimental design; laboratory and field work techniques; and the interpretation of research data results.
The fundamental concepts questions relate to the life sciences and the physical sciences. The social studies section of the CBASE focuses on history and the social sciences. The history questions relate to significant events in United States and world history. The social sciences questions relate to geography; political and economic structures; and social science procedures.
CBASE Study Guide
Explore our free CBASE review provided by Mometrix. Check out our premium CBASE study guide to take your studying to the next level. If you benefit from these materials, just click the link below! To compliment our CBASE book, we also offer extensive flashcards for even more CBASE exam prep help. We hope you enjoy our products! Your purchase helps us make more great, free CBASE certification content for test-takers just like yourself.