The American Board of Applied Toxicology Certification Examination is a certification exam designed and administered by the American Board of Applied Toxicology that is used to determine whether or not an individual has the skills and knowledge necessary to become a certified clinical toxicology practitioner.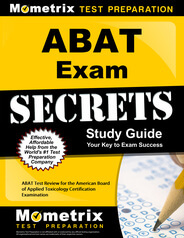 Prepare with our ABAT Study Guide and Practice Questions. Print or eBook. Guaranteed to raise your score. Get started today!
The ABAT exam assesses the individual's knowledge of a variety of topics related to toxicology including information about a wide range of different drugs, a variety of illnesses and disorders caused by air pollution or exposure to toxic chemicals, the effects of radiation, risk assessment, analysis of toxins, and many other similar topics.
The exam is administered in two parts with each part given on a separate day.
The first part of the ABAT exam consists of four toxicology scenarios and situations and the ABAT exam-taker must write a series of essays with each essay explaining the best way to assess each problem, treat the patient, and handle any concerns that might arise from the problems present in each situation.
The second part of the ABAT exam consists of somewhere between 100 and 150 multiple-choice questions that relate specifically to the following areas:
Drugs (Approximately 40 questions)
Chemicals (Approximately 35 questions)
Environmental and Occupational Risks (Approximately 15 questions)
Toxicology Theory (Approximately 10 questions)
Biologicals (Approximately 15 questions)
General History, Treatment, and other Toxicology-Related Information (Approximately 10 questions)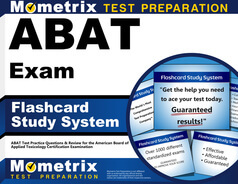 ABAT Flashcards. Proven ABAT test flashcards raise your score on the ABAT test. Guaranteed.
The exam-taker will have 5 and ½ hours to complete the ABAT exam and the exam-taker will receive a pass/fail grade based on whether or not he or she makes enough correct responses to meet or exceed the threshold set by the ABAT.
The exact number of correct responses required to pass the ABAT exam varies depending on the specific version of the exam that the individual receives and the number of questions included.
In order to register for the exam, the individual must:
have a doctorate degree in a biomedical field or a bachelor's degree or higher with at least five years of experience in applied clinical toxicology
have completed at least 12 months of training in clinical toxicology or a similar field
be a non-physician health care professional in good standing with a current unrestricted license to practice or the ability to obtain said license
be in good standing with the ABAT
If the individual meets all of these requirements, he or she may register for the ABAT exam by submitting an application by mail to the ABAT Credentialing Committee.
The current registration fee for the ABAT exam is $400.