In order to become licensed to practice law in certain jurisdictions, one must pass the Multistate Bar Examination. This exam has been developed by the National Conference of Bar Examiners to assess knowledge of fundamental legal principles rather than mastery of local cases or statutory law.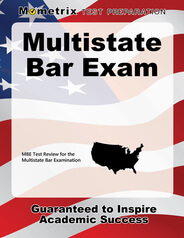 Prepare with our Multistate Bar Exam Success Strategies Study Guide Print or eBook. Guaranteed to raise your score.
The Multistate Bar Examination consists of 200 multiple-choice questions, 10 of which are pre-test questions used to develop future versions of the examination. Pretest questions do not contribute to the candidate's score.
The Multistate Bar Examination is divided into a morning and an afternoon session; candidates are given 100 questions during each session. The MBE covers material from the following content areas:
A candidate's Multistate Bar Exam score will be based on the number of questions answered correctly; for this reason, candidates are advised to make the best guess on those questions they do not know for sure. Each candidate will receive both a raw score and a scaled score.
The raw score is the number of questions answered correctly, while the scaled score takes into account differences in the difficulty of the test version. In order to determine whether they are required to take the MBE test, candidates should contact the bar admission office in their jurisdiction.