Contact Lens Registry Examination
The CLRE is a certification exam created by the National Contact Lens Examiners (NCLE) and administered by the Professional Examination Service (PES) that is used to determine if an individual has the knowledge necessary to be certified as an optician or contact lens technician.
This certification is primarily a resume-builder for individuals in the contact lens industry, but many states also use the exam as a requirement for licensure for opticians and contact lens technicians. The exam consists of 125 multiple-choice questions that are related to five main topics, which includes: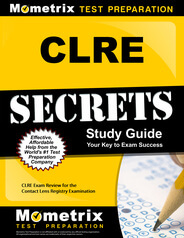 Prepare with our CLRE Study Guide. Print or eBook. Guaranteed to raise your score. Get started today!
Prefit and Assessment (16%)
Diagnostic Fit and Evaluation (25%)
Lens Dispensing and Patient Education (29%)
Follow-up Visits (21%)
Administrative Procedures (9%)
The prefit and assessment section covers information related to documenting patient history, taking facial measurements, making recommendations based on patient needs, and selecting the lens material and lens design. The diagnostic fit and evaluation section covers information related to using a diagnostic lens to determine the appropriate lens design and order lenses based on those specifications.
The lens dispensing and patient education section covers information related to verifying that the lenses meet the specifications required, the lenses suit the patient's needs, informing the patient about wearing the lens, and scheduling a follow-up appointment.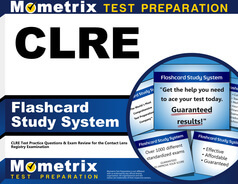 CLRE Flashcards. Proven CLRE test flashcards raise your score on the CLRE test. Guaranteed.
The follow-up visit section covers information related to verifying that the lenses are helping the patient based on observations and patient responses and making any corrections that are necessary in order to eliminate problems with the lenses.
The administrative procedure section covers information related to lens inventory control, procedures required to prevent infection, and legal and professional concerns. The exam-taker will have two and a half hours to complete the exam and the individual will receive a score of pass or fail depending on whether or not the number of correct responses meets the threshold set by the NCLE.
To register for the exam, you must be at least 18 years of age with a high school diploma or a GED and request a registration packet from NCLE by phone or e-mail. The registration fee for the exam is $150. However, there may be additional fees and requirements in order to receive licensure, if licensure is required, depending on local regulations.