The California Subject Examinations for Teachers (CSET) is a group of standardized tests designed to determine participants' aptitude for instructing kindergarten through high school students on a range of subjects and ensuring that they are up to the state of California's educational standards.
These exams were created by the California Commission on Teaching Credentialing (CTC) and are used to make sure that teachers in the state meet the specifications necessary to do their jobs effectively. The CSET tests are designed to ensure that participants meet a certain standard of aptitude, not merely that they perform better than their peers on the exams.
The content on the exams is developed by committees of educators in California, with final approval from the CTC. To create the exams, they utilized curriculum outlines, textbook information, content standards, common core standards, and program standards.
Specifically, the CSET Spanish Exam is designed to certify those qualified to teach the subject of Spanish to students in the state of California.
How Can I Register for the CSET Spanish Exam?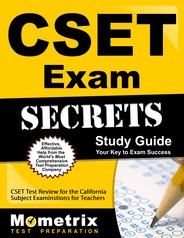 Prepare with our CSET Study Guide and Practice Questions. Print or eBook. Guaranteed to raise your score. Get started today!
Prospective participants can register for the CSET Spanish Exam through the California Educator Credentialing Assessments (CECA) website. There, they can review available times and locations to take any of the full exam's five subtests.
The registration fee is $99 per subtest. There is a $10 fee for additional copies of score results and $50 score verification fee for one of the exam's constructed-response questions.
What Am I Allowed to Bring to the Spanish Exam From CSET?
To administer the CSET Spanish Exam, the CTC has signed a contract with Pearson, an international standardized test administrator.
It is recommended that participants arrive at their designated testing center at least 15 minutes before their exam is scheduled to commence. Any participant who arrives more than 15 minutes late for the testing appointment will not be admitted into the exam.
Participants must bring with them a valid identification that bears their name, signature, and photograph.
Participants are forbidden from bringing a calculator, pens or pencils, cell phones or hats, among other items, from the testing area.
What Specific Content Appears on CSET's Exam for Spanish and How Is it Formatted?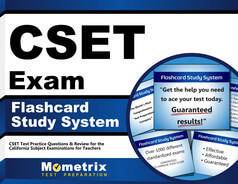 CSET Flashcards. Proven CSET test flashcards raise your score on the CSET test. Guaranteed.
The CSET Spanish Exam is administered via computer. Participants are given between one and three hours to complete a given subtest. The first three subtests of the exam count toward a single subject teaching credential in Spanish. Subtest three, four and five all count toward a bilingual authorization in Spanish.
Each subtest consists of a different number of questions and covers different specific content. The breakdown is as follows:
Subtest One: 40 multiple-choice questions, three short, constructed-response questions

General linguistics
Target language linguistics

Subtest Two: 40 multiple-choice questions, one extended, constructed-response question

Cultural and literary traditions and tests
Analysis and comparisons of culture

Subtest Three: 30 multiple-choice questions, five short constructed-response questions, one extended constructed-response question

Oral expression
Listening comprehension
Reading comprehension
Written expression

Subtest Four: 50 multiple-choice questions

Bilingualism and bilingual education
Instruction and assessment
Intercultural communication

Subtest Five: 50 multiple-choice questions

Sociopolitical and sociocultural contexts
Historical and geographical contexts
When Will I Receive My CSET Spanish Score and What Score Will I Need to Pass?
In order to pass the CSET Spanish Exam, participants will need to achieve a score of 220 on each subtest. As noted above, they'll have to pass subtests one through three to receive a single subject credential in Spanish, and will have to pass subtests three through five to receive a bilingual authorization in Spanish.
Depending on when they take a certain subtest, participants can expect to receive the results within a month or two.
How Should I Study to Receive a Passing Score on the Spanish CSET Exam?
Because the CSET Spanish Exam is designed to determine proficiency in teaching a particular subject — not just understanding that subject in itself, but understanding its concepts and fundamentals well enough to pass that knowledge on to young students — a comprehensive knowledge of Spanish concepts will be paramount to achieving a passing score. This necessitates the combined use of both a study guide, which will offer a full suite of the subjects one must master, and a set of study flashcards, which will allow prospective participants to drill this information in an unforgettable way. Mometrix Test Preparation offers both a custom-made set of flashcards and a study guide, both designed to grant success on the CSET Spanish Exam.
Click Here for CSET Practice Test