The California Subject Examinations for Teachers (CSET) developed a set of examinations that are designed to offer a single subject certification in Spanish and a separate set of examinations that can be used towards a bilingual authorization.
The CSET Spanish examination is only available in a computer based format that must be taken at an official testing center. To apply to be certified in Spanish, you will need to take CSET Spanish subtests #145, 146, and 147. The test covers Language and Communication in Oral Expression, Listening, Reading, and Written.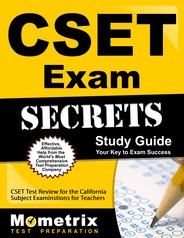 Prepare with our CSET Study Guide and Practice Questions. Print or eBook. Guaranteed to raise your score. Get started today!
The test also covers General Linguistics, Linguistics of the Target Language, Literary and Cultural Texts and Traditions, and Cultural Analysis and Comparisons. Expect to answer 110 multiple choice questions and 10 constructed response questions. The test will provide material for your constructed response answers. CSET Spanish subtest #'s 147, 250, and 258 are designed to be used towards the bilingual authorization.
This subject area is to certify teachers to make sure that they have the skills, abilities and knowledge that are important for teaching English learners in their primary language. These subtests also cover Language and Communication in Oral Expression, Listening, Reading, and Written. In addition, this test covers Bilingual education and Bilingualism, Intercultural Communication, Instruction and Assessment, Geographic and Historical Contexts, and Sociopolitical and Sociocultural Contexts.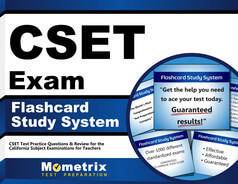 CSET Flashcards. Proven CSET test flashcards raise your score on the CSET test. Guaranteed.
The examination for bilingual authorization consists of 130 multiple choice questions and 6 constructed response questions. Study for your examination by taking the CSET Spanish practice test. Time allotments include #145-1 hour and 45 minutes, #146-1 hour and 30 minutes, #147-2 hours and 15 minutes, #250 and #258-2 hours and 15 minutes.
Subtests #145, #146, and #147 will include a tutorial that instructs you to insert special characters in your typed responses. Subtest #147 will ask you to record spoken responses. A tutorial will instruct you how to use the audio capture feature.
Achieve a score of 220 on each subtest and get your certification within 7 weeks of taking the test. It will help you use the CSET Spanish practice questions when you study.
Click Here for CSET Practice Test