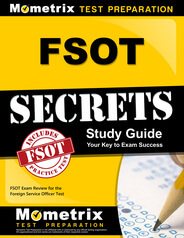 Prepare with our FSOT Study Guide and Practice Questions. Print or eBook. Guaranteed to raise your score. Get started today!
Here are the 4 key sections on the Foreign Service Written Exam:
Job Knowledge: The sample questions cover major content areas in the general section of the exam, such as U.S. Government and Political System, U.S. and World History, Geography, Economics, and Math and Statistics.
English Expression: The sample questions encompass English expression and language usage skills required for preparing or editing written reports, including correct grammar and good writing at the sentence and paragraph levels.
Biographic Information Questionnaire: These questions look at past job performance and activities to predict future success.
Written Essay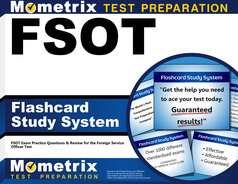 FSOT Flashcards. Proven FSOT test flashcards raise your score on the FSOT test. Guaranteed.
Note: the Job Knowledge section has two parts. The general knowledge section covers all of these topics:
English expression 
United States Government 
United States Society and Culture 
World History and Geography 
Economics 
Mathematics and Statistics 
Management 
Communication 
Computers
Then you must take one of five career track sections.
FSOT Practice Questions