Journalism is an elective class that teaches students about creating newspapers, writing, editing, reporting and interviewing. This class offers an excellent head start for those who wish to work in the publishing industry. Florida teachers looking to obtain certification in this subject can take the FTCE Journalism 6–12 exam.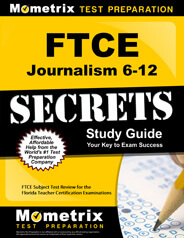 Prepare with our FTCE Journalism 6-12 Study Guide and Practice Questions. Print or eBook. Guaranteed to raise your score. Get started today!
If you wish to take the FTCE Journalism 6–12 test, you need to act quickly, as the test can no longer be taken after December 31, 2017. Because the state has decided to no longer offer the test, new applications are no longer accepted. This test consists of 120 multiple-choice questions, which you must complete in two hours and 30 minutes. You must receive of score of at least 200 to pass. You will receive your test results in about four weeks, although you can see if you passed or not immediately following the test.
The test consists of 10 competencies. The largest portion of the test – 18% – involves knowledge of journalistic style. You will also be tested on editing skills, news judgment, news-gathering skills, design skills, staff management, history, law and ethics, careers and resources in mass media, and business management and advertising.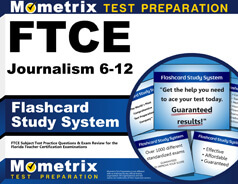 FTCE Journalism 6-12 Flashcards. Proven FTCE Journalism 6-12 test flashcards raise your score on the FTCE Journalism 6-12 test. Guaranteed.
These competencies cover various topics, including journalistic writing, story angles, AP style, copyediting, active vs. passive voice, news values, appropriate material, beats, writing surveys and polls, photography, graphics, page layout, typography, staff organization, copy flow, production schedules, history of journalism, technological advances, media law, First Amendment rights, code of ethics, major publications, mass media careers, creating advertising copy, calculating advertising rates, marketing and propaganda.
Passing the exam on the first try is now easier thanks to FTCE Journalism 6–12 practice test. Use this test to gauge your skills and quickly see areas where improvement is needed. See which areas of journalism you need to spend more time studying so you can pass sooner and help educate the future writers and editors of Florida.