No matter their individual needs, each and every student deserves access to the best education possible. This principle is no different for deaf and hard of hearing students who, because of their disabilities, will need a bit more care. It is the job of an American Sign Language teacher to help their students learn to communicate with others effectively—a skill that will only bolster their academic development in the long run. However, in order to properly teach this important skill, American Sign Language educators must be competent in an assortment of skills.

Prepare with our GACE American Sign Language Study Guide and Practice Questions. Print or eBook. Guaranteed to raise your score. Get started today!
The Georgia government fully understands a student's right to a comprehensive education. That's why, in addition to completing their normal training, all teachers must also earn a passing score on the GACE (Georgia Assessments for the Certification of Educators) exam for their specific field. Aspiring ASL educators will specifically have to take the GACE American Sign Language exam.
The GACE American Sign Language test splits into two distinct sections, each of which possesses their own unique formats. Both of these tests are designed to assess ASL educators of all grade levels. Test I is composed of 80 multiple choice questions, while Test II is a bit more personalized. The second test is similar in format to the common interview, with five total questions to respond to. These tests are also timed, with the first spanning two hours and the second lasting 20 minutes.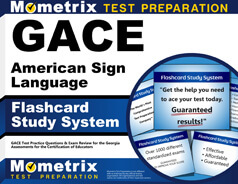 GACE American Sign Language Flashcards. Proven GACE American Sign Language test flashcards raise your score on the GACE American Sign Language test. Guaranteed.
If you want to score well on this important exam, you'll need only the most comprehensive study tools at your disposal. The Mometrix Test Preparation team is here to help you with our GACE American Sign Language practice test. This test has been designed through the help of careful, thorough research, all to ensure it is as accurate to the actual test as possible.
We encourage you to take advantage of this free study tool to not only familiarize yourself with the exam's content, but work out which areas of the exam will need more of your attention as you study. Every single question, both on our practice test and the real exam, will pertain directly to your competency with ASL.
Feel free to use our practice test alongside our companion GACE American Sign Language study guide. Good luck, and happy studying!