If you've been thinking about going to school to train for a career in the field of health care, you may have discovered that you're going to be required to pass a test called the HOBET before you can be admitted to your desired school.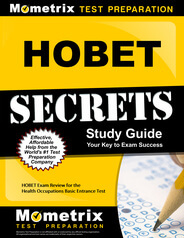 Prepare with our HOBET Study Guide and Practice Questions. Print or eBook. Guaranteed to raise your score. Get started today!
Most people in America have never heard of the HOBET; it's only when people begin thinking about becoming a health care professional that they first hear about the test. They're surprised to learn that this little known test can make or break their chances of embarking on a career in health care. So what exactly is the HOBET, and what's it all about?
HOBET stands for Health Occupations Basic Entrance Test, and it is what's known as an aptitude test. Many schools use it as an entrance examination for people interested in studying for a health care profession. It should not be confused with tests of knowledge, which most people are used to taking in high school and college. These tests measure how much information a person has learned about a particular subject.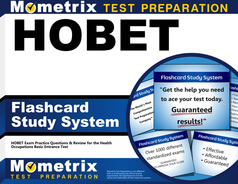 HOBET Flashcards. Proven HOBET test flashcards raise your score on the HOBET test. Guaranteed.
The HOBET doesn't do that; rather it measures a person's ability to learn important health care concepts, as well as if they have what it takes to handle the stress that comes with working in health care. It also measures a person's social skills, since these are much more important in health care than in many other jobs. Taking numerous HOBET practice tests is recommended for test day success.
Many people think it's extremely unfair to judge a person's fitness for a career in health by the results of an aptitude test. This feeling is understandable, but it's important to look at things from the perspective of the educational institution. They have no desire to spend years training someone for a career that is not a good match for them, as the odds are very high that the graduate will not be happy in the job and eventually give it up for something else.
They also want to avoid getting a reputation among employers that their graduates are not working out well on the job. That's why they use the HOBET; because it's very reliable when it comes to predicting who will succeed in a health care career, and who won't. It may occasionally block a person who would have made a good medical worker, but that is rare, and it will keep out hundreds of mismatches for every one of these cases. So requiring a good score on the HOBET prevents thousands of people from wasting several years on an education they won't be abel to use, and helps keep our nation's health care system functioning.
HOBET Test - HOBET Math Practice Test
HOBET Practice Tests
HOBET Self-Assessment Modules