A proper education is important for each and every individual, and especially so for children. As such, early childhood educators have a large job ahead of them. Teachers of special needs children have an equally large responsibility, albeit with added complexity. Because students with special needs require extra help, their teachers must understand how to approach their needs in the best manner possible.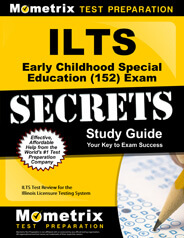 Prepare with our ILTS Early Childhood Special Education Study Guide and Practice Questions. Print or eBook. Guaranteed to raise your score. Get started today!
The state of Illinois understands how heavy a responsibility this is, which is why they require all incoming early childhood special education teachers to take and earn a passing score on the ILTS Early Childhood Special Education exam.
Like its sibling subject exams, this test serves as a rubric for measuring your preparedness to lead a classroom. The test examines not your cognitive knowledge, but your technical knowledge in terms of how to approach teaching your students.
The ILTS Early Childhood Special Education test also matches its sibling tests in terms of length.
You will be given three hours and 45 minutes to complete a total of 125 "selected-response" (multiple choice) questions.
These questions are designed to individually address one of five topics, which include: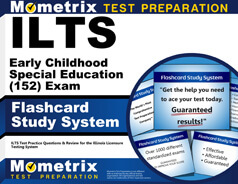 ILTS Early Childhood Special Education Flashcards. Proven ILTS test flashcards raise your score on the ILTS Early Childhood Special Education test. Guaranteed.
Maintaining Effective Communication, Collaboration, and Professionalism
Foundations and Characteristics
Managing the Learning Environment and Promoting Students' Social Interaction Skills
Planning and Delivering Instructional Content
Assessing Students and Developing Individualized Programs
The Mometrix Test Preparation team understands how important this exam is to your career goals. We care about your success, which is why we want to offer you our free ILTS Early Childhood Special Education practice test. This study tool has been crafted with the help of thorough research, all to ensure it is as accurate to its source as possible. Feel free to use our practice test to familiarize yourself with the actual exam and learn how to approach its material.
For best results, we recommend pairing this practice test with our ILTS Early Childhood Special Education study guide, also featured on this page. Good luck!