Psychology has long reigned as perhaps one of the oldest scientific disciplines out there. Without its existence and the substantial progress we've made in this field over the centuries, we'd have far less understanding of how the human mind works and why people act the way they do. It is the job of psychology teachers to train budding enthusiasts and future psychologists in the basics and nuances of the subject as thoroughly as possible.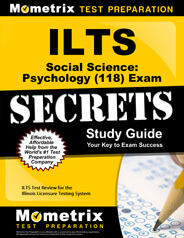 Prepare with our ILTS Social Science: Psychology Study Guide and Practice Questions. Print or eBook. Guaranteed to raise your score. Get started today!
Before you can embark upon this professional endeavor, however, you must first earn a passing score on the ILTS Social Science: Psychology exam.
Like its sibling ILTS subject exams, the Psychology exam is meant to serve as a measuring stick of how much you've retained from your certification training.
Through this evaluation, the state of Illinois can determine whether you're ready to start officially teaching, or whether you still need more time to learn.
The ILTS Social Science: Psychology test features a time limit of three hours and 45 minutes, within which you will be expected to complete all 125 of its questions. It is also entirely multiple choice in terms of format.
All exam questions adhere to one of these four subjects: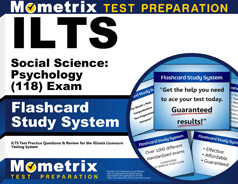 ILTS Social Science: Psychology Flashcards. Proven ILTS test flashcards raise your score on the ILTS Social Science: Psychology test. Guaranteed.
Personality Theories, Mental Health, and Social Behavior
Social Science Foundations
Human Development and Behavior
History Common Core
The Mometrix Test Preparation team understands how important this exam is to your career goals. To help you study to the best of your ability, we would like to offer you our ILTS Social Science: Psychology practice test.
Our practice test has been painstakingly crafted with the help of thorough observation, all to ensure it is as accurate to the real exam as possible. Feel free to use it to familiarize yourself with the actual test's contents. We hope it will fit well into your study plan. Good luck, and study hard!