An essential part of Michigan's teacher certification is the mandated testing program, the Michigan Test for Teacher Certification (MTTC). These examinations will ensure that each certified teacher has the necessary professional readiness and content knowledge to serve in Michigan schools. In order to become a certified library media teacher in Michigan, passing the MTTC Library Media (048) Test is required. In order to help you pass, Mometrix has designed a MTTC Library Media (048) practice test with which to study for this exam.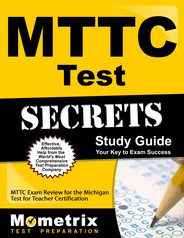 Prepare with our MTTC Study Guide and Practice Questions. Print or eBook. Guaranteed to raise your score. Get started today!
The exam can be taken in either a paper-based test (PBT) format or a computer based test (CBT) format, with a total of 100 multiple-choice questions for either test.
Each test taker must score 220 or higher in order to pass.
For the PBT format, you are allowed 4 hours and 30 minutes to complete the test, however, if you use the CPT format you are allowed 2 hours and 30 minutes.
All the questions on either the PBT or the CBT are broken down into the following subarea percentages: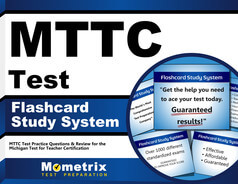 MTTC Flashcards. Proven MTTC test flashcards raise your score on the MTTC test. Guaranteed.
The Library Media Program (26%)
Information Literacy Skills (26%)
Curriculum and Resources (26%)
Program Administration and Leadership (22%)
Choose whichever test format is best to suit your needs, but make sure to check out the MTTC Library Media (048) practice test from Mometrix! Prepare yourself for the exam with our practice test that's sure to help you pass and become certified!
Click Here for MTTC Practice Test