The Nursing Pre-Admission Exam (PAX) was designed by the National League for Nursing as a means of evaluating prospective nursing students' aptitude for nursing studies. The PAX is used for admission to nursing schools across the United States and is, therefore, one of the most significant exams nursing students will take. Nursing is an indelibly important, wide-ranging field that remains in high demand, and a variety of nursing careers are open to those with the drive, knowledge, and resilience to enter them. Check with your intended nursing education program to determine if and when you need to take the NLN PAX.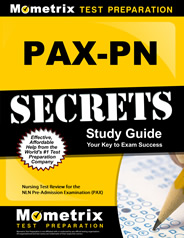 Prepare with our PAX-PN Study Guide and Practice Questions. Print or eBook. Guaranteed to raise your score. Get started today!
Who is eligible to take the PAX?
The NLN PAX is taken by students seeking entrance into nursing schools, usually with the goal of becoming licensed practical nurses (PN or LPN), vocational nurses (VN or LVN), or registered nurses (RN), in a variety of nursing specialties. Typically, prospective nursing students will have taken, or will take, prerequisite coursework in a variety of areas represented on the exam, including anatomy and physiology, chemistry, general biology, algebra, geometry, and physics, among other competency areas. To register for the PAX and schedule your test date, contact your nursing education program's admissions representatives.
What are the costs associated with the PAX?
Fees for the NLN PAX generally range between $60 and $100; however, costs are dependent on your educational institution. So, make sure to check with your nursing education program for more information.  
What is a passing score on the PAX?
Scores for the PAX range from 0 to 200, and the average score is generally around 100. In terms of what score is considered passing, you will need to check with your specific nursing education program. Score reports will be available online subsequent to your test date, and scores remain valid for approximately five years.
What does the PAX cover?
The PAX is a computer-based exam consisting of 160 multiple-choice questions in three different content areas. These areas include verbal, math, and science-related content. Please note that personal calculators are not permitted during the mathematics section of the exam; should your college, university, or educational institution allow it, a calculator will be provided for you at your testing location.
The following outline provides basic information regarding the exam's content areas, related topics, and number of questions per area:
Verbal; 60 questions, 40 minutes

Covering: reading comprehension, word knowledge, sentence completion, and related concepts

Math; 40 questions, 40 minutes

Covering: applied mathematics, algebra, geometry, conversions, graphs, word problems, basic calculations, decimals, percentages, integers, fractions, and related concepts

Science; 60 questions, 40 minutes

Covering: chemistry, general biology, anatomy and physiology, health, physics, Earth science, and related concepts
Test Preparation
Understanding the basic content and structure of the NLN Pre-Admission Examination (PAX) is the first step toward entering your nursing program and obtaining your nursing licensure. What comes next? Of course, getting enough sleep before the exam and taking care of yourself physically will certainly help you on exam day; however, the most effective means of ensuring you pass the PAX on your first attempt is to thoroughly prepare using the most comprehensive test preparation materials on the market. Mometrix Test Preparation offers just the comprehensive study guide you need in the PAX Secrets study guide. In this guide, you get actual PAX material to help you brush up on information you already know, as well as indelibly helpful step-by-step tutorial videos designed to increase your odds of success. In this guide, Mometrix Test Preparation's standardized test researchers also provide expert tips for reducing test anxiety and stress, improving recall, and increasing your overall test performance.  
In addition to the PAX Secrets study guide, Mometrix also offers the most complete PAX Exam Flashcards, which include additional PAX Practice Test questions. Earn the best score you can earn on the PAX by methodically preparing, studying, and testing yourself with actual PAX content. Read the PAX Secrets study guide, evaluate your knowledge with the PAX Exam Flashcards and Nursing Practice Test, and pass the PAX on your first attempt. The nursing field continues to grow, and nurses like you are needed. Don't delay; get started today!