With the current pressure on schools to monitor and report academic performance as well as student achievement, a new set of assessments have been developed to help intervene, monitor, and prepare students for college and their careers.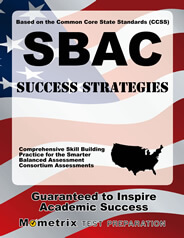 Prepare with our SBAC Study Guide and Practice Questions. Print or eBook. Guaranteed to raise your score. Get started today!
The Smarter Balanced Assessment Consortium has designed and implemented math, English language arts, and literacy tests that align with the Common Core State Standards. This consortium consists of educators, policy makers, and research groups nationwide to help prepare students.
The Smarter Balanced Assessment Consortium is a four-year project that began in the fall of 2013 and is 99% funded by the U.S. Department of Education with a $175 million grant. The remaining money comes from generous charitable organizations.
The Smarter Balanced Assessment Consortium began the implementation of its assessments in the 2014 to 2015 school year. In the spring of 2014, a field test was collected from more than 2 million students nationwide who completed a full English language or math field test.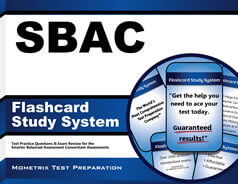 SBAC Flashcards. Proven SBAC test flashcards raise your score on the SBAC test. Guaranteed.
To date, this is the largest computerized educational assessment ever distributed. During this implementation, the Smarter Balanced Assessment Consortium encountered minor technology or administrative problems. The data from this field test is being collected and used to gain valuable measurement statistics and benchmark information from the students.
There are many long-term benefits as well, such as that these types of assessments will force schools to raise teaching standards nationwide. Parents will be able to compare their students to others and put pressure on the school systems to become more competitive and improve instruction for their students.
Free SBAC Practice Tests
The Smarter Balanced Assessments are provided to students in grades three through eight and eleven. The questions are interactive and creatively designed to include multiple-choice options, extended response, technology, and performance tasks. There are four main components to the assessments:
(1) a summative portion given during the last twelve weeks of school that will show student achievement and growth
(2) an optional interim assessment that is distributed locally to help educators understand their students' strengths and weaknesses
(3) a formative assessment that provides research-based instructional tools to help teachers differentiate instruction
(4) last, an online reporting tool to provide administrators, parents, students, and teachers student progress
The assessments are designed to help prepare the student for college and career readiness and help the student to think critically when applying their knowledge. A nice feature to the tool is that there are math and multi-language glossaries built in. It was decided that each state would retain control of their student data and decide how student data was shared.
The assessments meet the needs of all students, including those with disabilities. Online assessments are used primarily; however, the traditional paper-and-pen approach is available as an accommodation for students with individualized education plans (IEPs) or students who read Braille.