Prospective teachers that wish to teach classes in business and marketing will need to become certified by taking the Washington Educator Skills Test (WEST), which is designed to measure the candidate's mastery of subject matter. The WEST-E Business and Marketing Education test #038 practice test will prepare you for your exam to be state certified.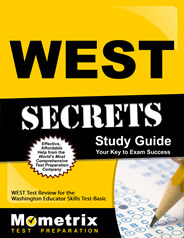 Prepare with our WEST Study Guide and Practice Questions. Print or eBook. Guaranteed to raise your score. Get started today!
The exam includes 110 multiple choice questions. This is a computer-based testing format that must be taken at an official testing center. The WEST-E Business and Marketing Education Test practice questions will be a good source of practice for your overall study program. Dig out your college text books and class notes to help you study for your exam. You will also find that professional organizations also have current and appropriate study materials.
You will have 2 hours and 30 minutes to complete your test. That should be plenty of time, but be sure to pace yourself so that you can answer all of the questions. You will need a score of 240 to pass your test and become certified. Your results will be ready right after your test and the official scoring will be available from 2-6 weeks later. The WEST-E Business and Marketing Education practice test will help you to focus your studies on these five core subject matter competencies. 17% of your test will focus on Business Management and Law. This includes having an understanding of the principles and methods of organizational management, principles and methods of human resources management and leadership, and business law and issues related to ethics and social responsibility in business.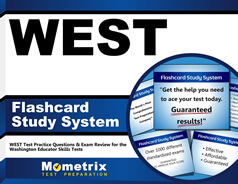 WEST Flashcards. Proven WEST test flashcards raise your score on the WEST test. Guaranteed.
Another 17% of the test focuses on Accounting, including methods of accounting and the accounting cycle, preparing, analyzing, and interpreting financial statements by applying appropriate accounting principles. It includes knowing the principles, and procedures of accounting related to forms of business ownership, payroll, inventory, and tax accounting. Economics and International Business makes up another 17% of the exam.
These questions will focus on the principles of microeconomics, macroeconomics, and international business, marketing, and trade. Expect about 22% of the questions to cover Entrepreneurship and Marketing, including principles and methods of entrepreneurship, marketing, market research, and product planning and placement. This competency also covers principles and methods of pricing, sales promotion, customer service, internet marketing and ecommerce. The final 27% covers Information Technology, Communication, and Career and Technical Education Program.