In order to demonstrate subject mastery to teach Family and Consumer Sciences Education, prospective teaching candidates will need to take the WEST-E Family and Consumers Sciences Test #041 and achieve a passing score of 240. All WEST-E exams are aligned with teacher endorsement competencies, and as applicable, the Essential Academic Learning Requirements for the state of Washington. The WEST-E Family and Consumer Sciences Education #041 practice test is designed as a tool to aid you in your study program for the test.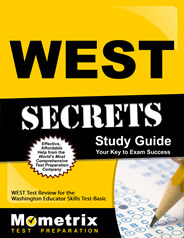 Prepare with our WEST Study Guide and Practice Questions. Print or eBook. Guaranteed to raise your score. Get started today!
The questions on your test will be in a multiple choice format and will cover five domain areas. Here's the breakdown of subject areas:
22% of the questions will be on Interpersonal and Family Relationships
22% will be on Human Development and Parenting
21% of the questions on Nutrition and Wellness
21% on Resource Management
14% on Family and Consumer Sciences Programs and Careers
Set up a study schedule to help you prepare for your test. You may know of other students in your college classes that also need to take this test. Some students enjoy forming a study group to help prepare to take the exam. Use your college text books and other study guides to boost your confidence in taking your exam.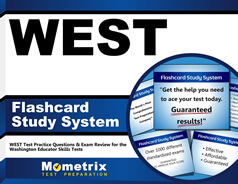 WEST Flashcards. Proven WEST test flashcards raise your score on the WEST test. Guaranteed.
The WEST-E Family and Consumer Sciences Education practice questions will give you a better idea of the kinds of questions you can expect on your exam. As part of your study schedule, plan to take the WEST-E Family and Consumer Sciences Education practice test to help you determine if you are ready for the examination.
When you feel you are ready to take your WEST-E examination, you'll need to register to take your test at an official testing facility. This is a computer-based testing format, which gives you 2 hours and 15 minutes to take the exam. Don't schedule anything just before or just after your testing time, so that you will not feel rushed. You'll want to stay relaxed and take your time so that you do your very best.