The Independent School Entrance Exam (ISEE) Lower Level is used by private schools to help determine admissions. Many elite elementary institutions require good test scores in the ISEE in order for a student to be accepted. The test consists of five sections and focuses on verbal and quantitative reasoning skills. There are three levels within the ISEE and the Lower Level iteration of the exam is meant for students seeking admission to grades five or six.
Q
How Do I Sign Up to Take the ISEE Lower Level?
A
The ISEE Lower Level is offered throughout the year. It is given at school test sites around the country and the number of available test dates depends on particular locations. Participants can take the test once in a six-month period and they can register on the ISEE website.
Q
How Is the ISEE Lower Level Administered?
A
Participants are given two hours and 30 minutes for the ISEE Lower Level.
Upon arrival at a testing site on their appointment day, participants in the ISEE Lower Level will be expected to provide a verification letter or identification to confirm their spot. Test administrators, who are teachers or other school personnel so that test days are as natural as possible for participants, will provide test directions and answer any questions participants might have before each section of the test begins.
There are two scheduled breaks during the ISEE Lower Level. Participants should bring four No. 2 pencils and two pens with black or blue ink. Other writing implements, as well as scratch paper, calculators, cell phones, rulers, protractors, compasses, dictionaries and thesauruses, are not permitted.
Q
How Is the Content on the ISEE Lower Level Divided?
A
The content on the ISEE Lower Level is divided into four sections of multiple-choice questions and an unscored essay. The multiple-choice sections focus on verbal reasoning, quantitative reasoning, reading comprehension and mathematics achievement.
The verbal and quantitative reasoning sections are meant to measure the participant's reasoning ability. The verbal reasoning section is focused on vocabulary and sentence completion. The vocabulary items include an abstract, grade-appropriate word followed by four potential answer choices. The sentence completion questions include a sentence with a word or phrase missing and four potential answers to choose from that will complete the sentence.
The quantitative reasoning section is made up of world problems, some of which require no or only very simple calculation.
The reading comprehension and mathematics achievement sections are meant to determine a participant's aptitude for curriculum-based concepts appropriate for their grade level. In the reading comprehension section, participants must read a passage and answer questions specific to that passage. There are five passages in the section and they are meant to be particularly interesting to upper elementary students. They cover science, contemporary life, art and history.
The mathematics achievement section is focused on problem identification and solution finding. The questions require at least one if not more steps of calculation to determine their answers.
In the essay section, participants are given a writing prompt that is appropriate for their grade level. The participants must write an informed essay based on this prompt. As this essay is not scored, a copy is sent to the school or schools designated by the ISEE registration form, along with the participant's scores from the other sections.
The number of questions and allotted time for each ISEE Lower Level question is broken down as follows:
Verbal Reasoning: 34 questions and 20 minutes allotted
Quantitative Reasoning: 38 questions and 35 minutes allotted
Reading Comprehension: 25 questions and 25 minutes allotted
Mathematics Achievement: 30 questions and 30 minutes allotted
Essay: 30 minutes allotted
Q
How Is the ISEE Lower Level Scored?
A
A score on the ISEE Lower Level is determined based on the number of correct answers. Wrong answers and committed answers count the same.
Once a test is complete, the answers and essays are sent to an ISEE operations officer where it is scored. This office compiles an Individual Student Report (ISR), which can be emailed to the parent and is posted online. The ISR is posted online about 10 to 14 days after testing.
Q
Are There Recommended Strategies for Participants Taking the ISEE Lower Level?
A
Because of the structure of the ISEE Lower Level, it is recommended that participants read an entire question before answering, attempt to first answer question before looking at the choices and determining if any choice matches or is closest to that answer, eliminate answers that they know to be incorrect and then finally choose their answer.
Q
How Can a Student Obtain an Exceptional Score on the ISEE Lower Level?
A
As the ISEE Lower Level is focused on age-appropriate material, consists of a mixture of multiple-choice items and an essay and scores omitted and incorrect answers the same, it is recognized as best practice that participants prepare with a combination of a study guide and set of flashcards. Mometrix Test Preparation offers both a set of flashcards and a study guide that are proven to help students prepare adequately for the ISEE Lower Level.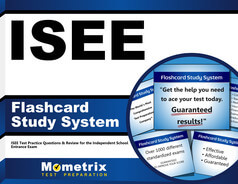 ISEE Flashcards. Proven ISEE test flashcards raise your score on the ISEE test. Guaranteed.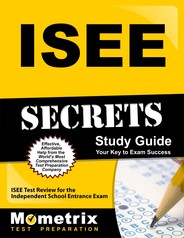 Prepare with our ISEE Study Guide and Practice Questions. Print or eBook. Guaranteed to raise your score. Get started today!