Getting into a top independent school can be very competitive, even at an early age. Prospective students must show that they have the skills to succeed at these top-flight institutions. Students entering grade 7 or 8 may take the Independent School Entrance Exam (ISEE) Middle Level test.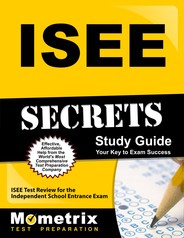 Prepare with our ISEE Study Guide and Practice Questions. Print or eBook. Guaranteed to raise your score. Get started today!
The ISEE exam is offered by the non-profit Education Records Bureau (ERB), an organization that offers PreK through Grade 12 testing. The test ranks a student's skills against others in the same grade and is one part of the admission process. How can students prepare for the test? What are the best study tools? This guide will help.
Which schools use the ISEE Middle Level test?
More than 1,200 independent schools across the world use this admission test.
When can I take the test?
The test is available in three testing windows — Fall (August through November), Winter (December through March) and Spring/Summer (April through July). Students may take the test up to three times in each 12-month admission cycle.
ISEE Middle Level Practice Test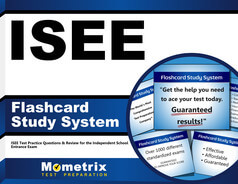 ISEE Flashcards. Proven ISEE test flashcards raise your score on the ISEE test. Guaranteed.
Where can I take the test?
Candidates can take the test at an ISEE test site school or an ISEE testing office. ISEE also uses a third-party test center with hundreds of locations across the United States.
How many sections are on the ISEE Middle Level test?
The test has five sections designed to assess student readiness for academic work. The first four test sections contain multiple-choice questions.

The first two sections, verbal reasoning and quantitative reasoning, each measure a student's ability to reason.
Click Here for ISEE Practice Test