The United States Green Building Council developed the Leadership in Energy and Environmental Design (LEED) program to encourage builders to use sustainable and green practices. There are four levels at which a building can become LEED certified: certified, silver, gold, and platinum. Each of these designations signifies a specific level of energy conservation and resource management.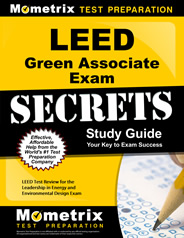 Prepare with our LEED Study Guide and Practice Questions. Print or eBook. Guaranteed to raise your score. Get started today!
The LEED system has been around since 1991, and at present there are LEED certified buildings in all 50 and in 24 countries around the world. The LEED system divides a building into six categories:
sustainable sites
water conservation
energy and atmosphere
materials and resources
indoor environmental quality
green design innovations
In order to become LEED certified, each of the six categories must be considered with respect to the environmental effects. Once a building is LEED certified, however, the rewards are numerous. LEED certification increases the value of the home, and often attracts potential buyers. Having a LEED certification can generate tax breaks, and can expedite the permitting process.
Right now, there are six sets of construction parameters for LEED structures: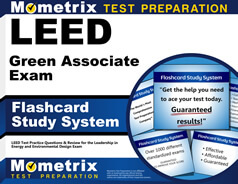 LEED Flashcards. Proven LEED test flashcards raise your score on the LEED test. Guaranteed.
LEED-NC (new commercial construction and major renovations)
LEED-CI (commercial interiors project)
LEED-CS (core and shell projects)
LEED-EB (existing buildings)
LEED-H (homes)
LEED-ND (neighborhood development)
As for builders themselves, the easiest way to become LEED certified is to take the Green Associate examination. The LEED Green Associate exam consists of 100 multiple-choice questions, and takes approximately 2 hours to complete. The entire exam process will take about two hours and twenty minutes.
The LEED Green Associate exam covers the following subjects:
synergistic opportunities and the LEED application process
project site factors
water management
project systems and energy impacts
acquisition, installation, and management of project materials
stakeholder involvement in innovation
project surroundings and public outreach
To become LEED certified, an individual needs to earn at least 170 on a scale ranging from 125 to 200.
LEED Study Guide
Explore our free LEED review provided by Mometrix. Check out our premium LEED study guide to take your studying to the next level. If you benefit from these materials, just click the link below! To compliment our LEED book, we also offer extensive LEED flashcards for even more LEED test prep help.
We hope you enjoy our products! Your purchase helps us make more great, free LEED certification content for test-takers just like yourself.
LEED Green Associate Practice Questions
1. What does a LEED rating reflect?
The cost of a building
How green a building is
The carbon footprint of a building's occupants
The location of a building
2. What is the purpose of Sustainable Sites Credit 2?
Reducing energy use in residences 
Rehabilitation of Superfund sites 
Encouraging development in areas which already have some infrastructure, thus protecting natural resources
Ensuring that the project has a reasonable amount of parking spaces
3. Using the payback period to make a decision, which project is the most likely to be chosen?
A project which costs $1 million and is expected to generate $15,000 per year
A project which costs $90 million and is expected to generate $9 million per year
A project which costs $6.5 million and is expected to generate $65,000 per year
A project which costs $30 million and is expected to generate $5 million dollars per year
4. What rate of fresh air distribution per occupant should be enough to prevent "sick building syndrome"?
100 parts per million
100 to 200 cubic feet per hour
900 to 1200 cubic feet per hour
3000 to 4000 cubic feet per hour
5. Which is the term for an evaluation of a product's environmental impact over the entire time of its use?
Sustainability 
Durability
Life-cycle assessment 
Chain-of-custody
6. What is the goal of meeting ADA standards?
Indoor air quality
Accessibility of buildings to people with disabilities 
Reduction of carbon emissions
Durability of a structure
7. Which LEED rating system requires durability planning?
LEED for Schools
LEED for Commercial Interiors
LEED for Homes
LEED for Existing Buildings: Operation and Maintenance
8. What is the name for the procedure used to clear buildings of contaminants before they are occupied?
Flush-out
Infiltration
Ventilation
Ex-filtration
LEED Green Associate Answers Key
---
1. The answer is B. LEED stands for Leadership in Energy and Environmental Design, and is a system for rating how green a building is. Although LEED ratings can be affected by factors such as carbon footprints and how a building relates to the site, a LEED score takes many other elements of a building into account. A LEED rating can affect a building's value, but LEED scores do not reflect a building's cost.
2. The answer is C. Sustainable Sites Credit 2 is intended to encourage urban development in areas where infrastructure already exists, which in turn helps protect natural resources. This is usually defined as using a building site that has been previously developed, is within at least .5 miles of both a residential area and at least ten basic services, and offers pedestrian access.
3. The answer is D. The formula for the payback period is to divide the cost of the project by the annual revenue expected. It is usually only one of the methods used in selecting a project. Using this system for these four choices, Answer A will take about 66 years, answer B will take 10 years, answer C will take 100 years, and answer D will take 6 years. Therefore, D has the shortest payback period.
4. The answer is C. Indoor air quality is very important because poor indoor air quality and poor air circulation can lead people who work or live in the building to become sick from indoor pollutants and irritants: "sick building syndrome". The American Society of Heating, Refrigeration and Air Conditioning Engineers (ASHRAE) recommend that fresh air pumps at a rate between 900 to 1200 cubic feet per hour per occupant in order to keep occupants productive and healthy.
5. The answer is C. A life-cycle assessment provides an evaluation of a product's impact over the entire life-cycle of its use, including from its manufacturing to its eventual disposal. This kind of analysis offers a way to choose materials which are most beneficial in both the long- and short-term. Sustainability and durability are important characteristics of green products, and chain-of-custody is a term which only applies to the life cycle of wood products.
6. The answer is B. ADA stands for Americans with Disabilities Act; the ADA Standards for Accessible Design are intended to lay out the structural requirements for access of buildings by people with disabilities. These guidelines apply during all phases of a building's life cycle and are published by the United States Department of Justice.
7. The answer is C. Durability is important because a durable structure lasts longer and prevents waste. This is of particular concern for homes. LEED for Homes rating system requires a durability assessment that includes potential concerns and plans for dealing with issues which can threaten the integrity of the structure.
8. The answer is A. After construction is completed, a building must be flushed with outside air-either via the HVAC system in place or with windows-before it may be occupied. This process is called flush-out. Infiltration and ex-filtration both refer to unintended leakages of air into or out of buildings. 62. The answer is D. TVOC refers to total volatile organic compounds; a volatile organic compound (VOC) is a carbon-based chemical that can be carcinogenic. Some household products emit VOCs. The TVOC of a room or indoor space is the total amount of VOCs in the air of that space.