The Examination in Marital and Family Therapy (commonly known as the MFT exam) is administered by the Association of Marital and Family Therapy Regulatory Board. Several jurisdictions require prospective marital and family therapists to pass this exam in order to obtain licensure.
The format of the MFT exam is straightforward. It is composed of 200 multiple-choice questions, each of which has four answer choices.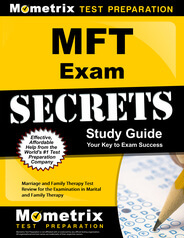 Prepare with our MFT Study Guide and Practice Questions. Print or eBook. Guaranteed to raise your score. Get started today!
There is only one right answer for each question. The exam is administered by computer, and usually takes about four hours.
The content of the MFT exam can be broken down into five categories:
Practice of Marital and Family Therapy (22.5% of the exam)
Assessing, Hypothesizing, and Diagnosing (22.5%)
Designing and Conducting Treatment (32.5%)
Evaluating Ongoing Process and Terminating Treatment (7.5%)
Maintaining Ethical, Legal, and Professional Standards (15%)
MFT Exam Practice Questions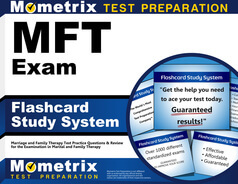 MFT Flashcards. Proven MFT test flashcards raise your score on the MFT test. Guaranteed.
All of the questions have been composed and edited by experts, and are meant to correlate with the knowledge and skills required for practice as a marital and family therapist. Your MFT exam score is based on the number of questions you answered correctly.
There is no distinction between unanswered questions and questions answered incorrectly, so you should make your best guess on every question. The minimum passing score varies by jurisdiction. The MFT exam is administered by Prometric during the three open testing periods of each year.
MFT Exam Study Guide
Explore our free MFT review provided by Mometrix. Check out our premium MFT study guide to take your studying to the next level. If you benefit from these materials, just click the link below! To compliment our MFT book, we also offer extensive MFT flashcards for even more MFT test prep help.
We hope you enjoy our products! Your purchase helps us make more great, free MFT certification content for test-takers just like yourself.