The Examination in Marital and Family Therapy (commonly known as the MFT test) is administered by the Association of Marital and Family Therapy Regulatory Board.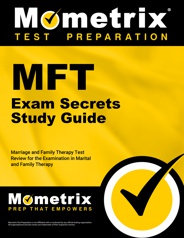 Prepare with our MFT Study Guide and Practice Questions. Print or eBook. Guaranteed to raise your score. Get started today!
In many jurisdictions, therapists are required to pass the MFT test in order to obtain licensure. In any case, the exam provides information for state boards of examiners in marital or family therapy. It is also used to evaluate potential entry-level therapists.
The questions on the MFT test have been structured to be consistent with the knowledge and skills required by practitioners in the fields of marital and family therapy.
All of the information covered by the exam should have been covered during the candidate's academic training program, and should be directly related to the provision of therapeutic services.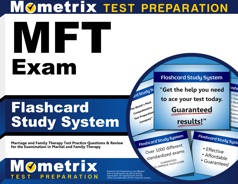 MFT Flashcards. Proven MFT test flashcards raise your score on the MFT test. Guaranteed.
The MFT test is focused on the practical aspects of therapy, rather than on therapeutic theory.
Another use of the MFT test is as an evaluative tool which provides a common basis of comparison for practitioners. The state board will often look at test results in the aggregate to determine where therapist training programs are succeeding and/or failing.
In many cases, the results of the MFT test have inspired changes in academic programs at the undergraduate and graduate levels. By reviewing the overall results of this test, instructors involved in therapy education can improve the effectiveness of their programs.