The Veterinary Technician National Examination (VTNE) assesses the knowledge and skills of prospective veterinary technicians. The VTNE was developed by the American Association of Veterinary State Boards.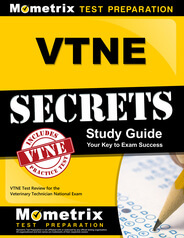 Prepare with our VTNE Study Guide and Practice Questions. Print or eBook. Guaranteed to raise your score. Get started today!
Scores are generated using a formula that takes into account the relative difficulty of the exam version.
Your raw score, which is the number of questions answered correctly, will be converted onto scale ranging from 200 to 800.
Unanswered questions have the same value as questions answered incorrectly, so it is always best to guess when unsure about an answer on the VTNE.
The minimum passing score is 425. The VTNE is administered on the third Friday of January and June. You will be provided with a calculator to use on the examination.
Course Review

VTNE Flashcards. Proven VTNE test flashcards raise your score on the VTNE test. Guaranteed.
VTNE FAQ
Q
What is the VTNE certification?

A
The Veterinary Technician National Exam (VTNE) is used to evaluate entry-level technicians on the path to becoming credentialed.
Q
How much does it cost to take the VTNE?

A
The application fee for the VTNE is $320, paid by credit card via an online application.
Q
How do you become VTNE certified?

A
To become certified as a Veterinary Technician, you must take a credentialing exam, such as the VTNE.
Q
Is the VTNE exam all multiple choice?

A
Yes, the VTNE exam consists of 170 multiple-choice questions.
Q
How long do you have to take the VTNE?

A
The time limit for taking the VTNE is 3 hours.
Q
How do you sign up for the VTNE exam?

A
You can sign up for the VTNE by visiting the administrator's website: https://www.aavsb.org/vtne
Q
What is the pass rate for the VTNE?

A
The pass rate for the VTNE is 76%.
Q
What is a passing score for the VTNE exam?

A
A passing score on the VTNE exam will vary from state to state as different states have different scoring methods. In some states, a score of 425 out of 800 is considered passing, while 70 out of 100 is the minimum passing score in other states.
Q
How many questions are on the VTNE?

A
There are 170 questions on the VTNE. 20 of these questions are not scored and are used for future exams.
VTNE Exam Practice Questions
VTNE Study Guide
Explore our free VTNE review provided by Mometrix. Check out our premium VTNE study guide to take your studying to the next level. If you benefit from these materials, just click the link below!
To compliment our VTNE book, we also offer extensive flashcards for even more VTNE exam prep help. We hope you enjoy our products! Your purchase helps us make more great, free VTNE certification content for test-takers just like yourself.