The Adult Gerontology Acute Care Nurse Practitioner Certification (AG-ACNPC) exam is a board certification exam administered by the American Nurses Credentialing Center (ANCC) Certification Corporation.
The exam is designed to evaluate your clinical knowledge and skills as a nurse practitioner. After completing the eligibility requirements and passing the exam, you will be awarded the credential Adult-Gerontology Acute Care Nurse Practitioner-Board Certified (AGACNP-BC). The credential is valid for five years.
Q
What Are the Eligibility Requirements?
A
To be eligible for the exam you must have a current U.S. RN or APRN license that is not the subject of formal discipline by any state board of nursing and that is not subject to limiting provisions or conditions.
You must also complete a graduate-level academic program at a college or university that offers an accredited master's or higher degree in nursing with a concentration for adult-gerontology ACNP. Your coursework must include three seperate graduate courses in advanced physiology, advanced health assessment, and advanced pharmacology. You must also take content in health promotion/maintenance and differential diagnosis and disease management. Finally, you must have 500+ hours of faculty-supervised clinical work.
Q
What is the Application Process?
A
You can apply online. If your application is approved, you will receive scheduling information within 5 to 10 days of approval. You must take the exam within a prescribed 90-day window.
Exams are offered at more than 300 testing centers in the United States, twice daily from Monday through Friday. Some testing centers also offer exam dates on Saturdays.
The fee is $295 for AACN members and $395 for nonmembers.
Q
What is the Exam Format?
A
You will be given four hours to complete the exam. It is a computer-based exam and consists of 200 multiple-choice questions. Of these, 175 are scored and 25 are pretest questions that are not scored. The pretest questions appear randomly throughout the exam. It is important to answer each question. There is no penalty for an incorrect answer.
Q
What is the Exam Content?
A
The test distribution is as follows:
APRN Core Competencies – 28 Questions
Clinical Practice – 80 Questions
Role-Professional Responsibility – 58 Questions
Health Care Systems – 9 Questions
Q
What's the Best Way to Prepare for the Exam?

Adult Gerontology Acute Care Nurse Practitioner Flashcards. Proven test flashcards raise your score on the Adult Gerontology Acute Care Nurse Practitioner test. Guaranteed.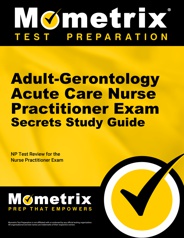 Prepare with our Adult Gerontology Acute Care Nurse Practitioner Study Guide and Practice Questions. Print or eBook. Guaranteed to raise your score. Get started today!