Earning the aPHR: an Early-Career Boost for HR and Management Professionals
There's good news for new HR professionals and non-HR managers who would like to boost their careers and help their organizations succeed. You can become certified as an Associate Professional in Human Resources (aPHR). HR Certification Institute (HRCI) offers the exam required for certification.
HRCI offers a robust certification program that will allow you to demonstrate your commitment to the human resources field. According to HRCI, their certification holders outperform peers in employment prospects, annual salary, income growth, and career satisfaction. As the early-career certification, the aPHR helps you to move forward faster by demonstrating critical HR knowledge that supports excellent performance.
Who Can Take the aPHR?
For many certifications, you need experience in the field. It's not so for the aPHR, which is determined by a knowledge-based exam. A college student studying HR or management can achieve the certification and go into the field with the benefit of certification over uncertified peers. A person without a degree who has worked and gained HR knowledge or a person with a degree working in HR or management early in their career is equally eligible to take the exam and become certified. Which category do you fit into?
What are the Specific Details of the aPHR Test?
The aPHR exam is a proctored, timed, computer-based exam that can be taken at home, at work, or at a Person VUE testing center. The two-hour-and-15-minute exam contains 100 primarily multiple-choice questions that are scored. The test includes 25 pretest questions that aren't scored but are mixed in with the scored questions.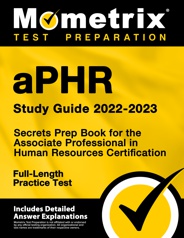 Prepare with our aPHR study guide and practice questions. Guaranteed to raise your score. Get started today!
The test content covers five functional areas of HR:
Talent Acquisition (19%): covers everything related to acquiring new employees from planning to screening to onboarding.
Learning & Development (15%): includes assessing organization needs for learning and for understanding techniques to deliver training that supports organizational goals.
Compensation & Benefits (17%): assesses knowing what goes into a compensation, benefits, and retirement package that keeps the organization in the competitive mix.
Employee Relations (24%): covers knowing how organizations attend to employee morale, performance, and retention in the operational environment.
Compliance & Risk Management (25%): tests understanding legal compliance and organizational risk, records and reporting, and response.
Do I Have to Pay for the aPHR Exam?
Yes, the test has a $100 application fee and a $300 non-refundable exam fee. You pay the fee unless you work for an organization that will cover or reimburse such an expense for you. If you're already working, it's a good idea to check with your manager or benefits department to see if they'll cover the fees.
How Do I Register for the aPHR Exam?
To register for the aPHR exam, visit the HRCI website. Fill out the application and submit the fees. You'll be notified when your application has been approved. Once you receive approval, the fees are non-refundable.
Since you can take the test at home or at work, provided you have the needed computer set up, you can take the test at any time during the year when there's an appointment and proctor available. You can also make appointments at the Pearson VUE center year-round, subject to availability.
No matter where you take the exam, be sure to check the aPHR website and Pearson VUE test center information for requirement during test-taking, including what you can have with you on your test-taking desk or in the test center. If you require accommodations, request them in advance for the best chance of approval. The websites provided more information on this topic.
Do I Need to Prepare for the aPHR Exam?
While standardized test content should always reflect real-life, useful knowledge, answering test questions under pressure can be tricky. You may think you know all there is to know about benefits, for example, then you're tested on a concept or practice that you haven't come across in your study or work. Or maybe you're asked a test question in a way that confuses you, although you should know the answer. It can be a frustrating experience to be tested this way in any professional area.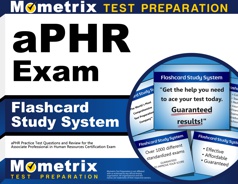 Prepare with our aPHR flashcards. Guaranteed to raise your score. Get started today!
How can you minimize the tricks of taking a standardized test? Take your studying to the next level with Mometrix Test Preparation's study guide and flashcards. If you have the chance, look for an online or in-person study group to help with motivation and to have others to do question and answer sessions with. Don't wait until the last minute. You want to begin to prepare months in advance, a strategy that's always more effective than cramming the day before the test.
Is aPHR Recertification Required?
The aPHR certification lasts for three years. During those three years, you must earn 45 recertification credits and submit documentation to recertify at the end of the period. Examples of credit-earning activities include professional development courses and seminars in-person or online, conference attendance, and conducting certain projects or programs worthy of credit. Recertification can be achieved by retaking the test as well, so choose what works best for you and your career.
Whichever path you choose, you can feel proud of your achievement to certify or recertify in the aPHR and confident that you have a tool to keep your career moving in the right direction.