Collecting blood samples is standard practice at medical facilities. These tasks are handled by Phlebotomy Technicians, whose duties include preparing equipment, preparing patients, drawing blood and properly disposing of samples and tools. The best technicians have taken and passed the Phlebotomy Technician certification exam, which was developed by the American Society for Clinical Pathology. Candidates will need excellent study materials to help them prepare for this tough test. Below, you'll find information about the exam and tools to help you succeed.
What are the eligibility requirements to take the Phlebotomy Technician certification exam?
Candidates can take the exam if they meet any one of seven requirements. Candidates must have a high school education or equivalent, and then meet a certain combination of work experience requirements and/or experience in blood collection methods criteria. Check with the American Society for Clinical Pathology for specifics.
How many questions are on the exam?
There are 80 multiple-choice questions on the test.
What is the test time?
Candidates have two hours to complete the test.
How much is the test fee?
There is a $135 exam fee.
What content areas are on the Phlebotomy Technician certification exam?
There are seven content areas on the test. They are:
Circulatory System. This section includes questions on circulatory system structure and function; blood composition and function; and circulatory system terminology.
Specimen Collection is the largest section of the exam, containing as much as 50 percent of the test questions. Categories include orders review and clarification; pre- and post-collection communication with patients; assessment/preparation of patients; and common
Specimen Handling, Transport, and Processing include types and suitability of specimens; accessioning and labeling; assessing a specimen's quality and transporting and storing.
Waived and Point-of-Care Testing tests candidates on their knowledge of urinalysis; hemoglobin & hematocrit; coagulation; glucose and more.
Non-Blood Specimens tests candidates in several areas, including patient preparation and collection.
Laboratory Operations includes techniques in quality control; ethics; relating to clients; improve quality; and regulations that impact safety, infection control, coding and billing, and confidentiality.
How is the exam scored?
The American Society for Clinical Pathology uses computer adaptive testing. Each time a candidate answers a test question correctly, the next question is slightly harder. This pattern continues until a candidate answers a question incorrectly. When that happens, the next question is slightly easier. Candidates must answer enough difficult questions to pass the exam.
What is the passing score?
To pass, candidates must score at least 400, which is the minimum passing score. The highest score is 999. "Pass" or "fail" will appear on the official score report.
When will I receive my score?
A preliminary pass/fail score will appear on your computer when the exam is complete. Candidates will receive the official results within four business days of the exam's completion.
Where can I take the Phlebotomy Technician certification exam?
The American Society for Clinical Pathology uses independent testing centers around the country to administer the exam. There are hundreds of these centers so you should find one convenient you.
When should I arrive at the test center?
Please arrive at least 30 minutes ahead of your scheduled test time.
What can I bring into the testing room?
Candidates can bring their own non-programmable calculators into the testing room. Otherwise, any personal items, such as mobile phones, certain items of clothing and electronics, must be placed in a locker at the test center. Candidates will also be asked to pat themselves down to ensure they're not bringing anything into the testing room. They will also have to empty their pockets.
What identification should I bring to the test center?
Candidates must bring a valid driver's license or a state ID card. Both must contain a photo and a signature.
What are the best study tools I can buy to prepare for the Phlebotomy Technician certification exam?
Mometrix has a group of study tools created by professionals skilled creating test preparation materials. Our study guide walks you through practice test questions and provides a comprehensive medical review of terms important to the field of phlebotomy. Our flashcards show you how to quickly solve difficult test questions and walk you through the test topics you could see. These materials are exactly what test takers need.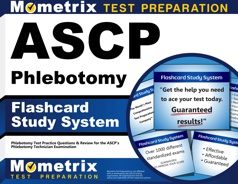 ASCP Phlebotomy Flashcards. Proven ASCP test flashcards raise your score on the ASCP Phlebotomy test. Guaranteed.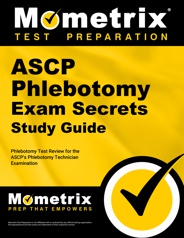 Prepare with our ASCP Phlebotomy Study Guide and Practice Questions. Print or eBook. Guaranteed to raise your score. Get started today!