The ASVAB Arithmetic Reasoning exam is given to individuals wanting to enlist in the U.S. Armed Forces. Enlisting in the Armed Forces is a very important decision and recruiters need to make sure you have what it takes. Before the actual ASVAB exam, you will be required to answer questions regarding drug use, your marital status, health, and your arrest record. You will also be required to undergo a physical exam.
There are ten different sections on the ASVAB exam:
Arithmetic Reasoning
General Science
Word Knowledge
Paragraph Comprehension
Mathematics Knowledge
Electronics Information
Automotive and Shop Information
Mechanical Comprehension
Assembling Objects
Verbal Comprehension
Your score on the Arithmetic Reasoning, Word Knowledge, Paragraph Comprehension, and Mathematics Knowledge subtests are what make up your Armed Forces Qualification Test (AFQT).
How much does it cost to take the exam?
There is no fee to take the ASVAB exam.
How is the exam formatted?
The exam is computer-based. However, at some locations, paper and pencil exams are provided. The computer-based exam is an adaptive exam, meaning the level of difficulty only increases depending on if you answered the previous question correctly.
There are usually around 135 scored questions on the entire exam. However, the number of questions you get depends on whether "tryout" questions are given. These types of questions do not count toward your score. They are given to make sure that you are performing at an acceptable level. In total, a test-taker will receive about fifteen of these tryout questions in the entire exam.
The exam is broken into subtests. If you are taking the exam on the computer, once you complete one subtest you can immediately move to the next one. The average time it takes to complete the ASVAB computer exam is two hours. The difference between the computer exam and the paper and pencil exam is that the computer exam allows you to take the exam at your own pace.
How is the exam scored?
Each subtest of the exam is reported as Standard Scores. In order to pass the exam, you should aim for a Standard Score of 50 or above. You will also receive your Armed Forces Qualification Test score. This is a very important score because it determines whether you qualify to enlist in the military. This score is reported as percentiles between 1-99.
The percentile score represents the percentage of test takers in that reference group that scored at or below that score. So, a person who scores an 80 scored either as well or better than 80% of a particular reference group. In the case of the ASVAB, the reference group used is a sample of 18-23-year-old's who took the ASVAB exam in 1997.
Keep in mind that for the computer-based exam, there is a penalty for guessing answers, so think hard about your answer before answering a question. Once you answer a question, you can not go back and change it.
The paper and pencil exam is a little different because you are able to review some of your previous answers and change them, but you cannot go back to a previous exam section. You also are not permitted to move ahead by yourself.
Where will I be taking the exam?
The ASVAB exam is given at Military Entrance Processing Stations (MEPS). There are 65 Military Entrance Processing Stations across the U.S. and Puerto Rico, all staffed with military as well as civilian professionals. The exam is also given at Military Entrance Test (MET) sites for individuals who do not live close to a MEPS location.
What will the day of the exam be like?
On the day of your exam, you will want to arrive at least 15 minutes early. If you are late you will not be able to take your exam and will have to reschedule it. You must have valid photo identification with you. You must not share information about the test or the type of questions with other people. If you do, you may be subjected to severe penalties. Keep all information about the exam to yourself.
What will the Arithmetic Reasoning section test me on?
The Arithmetic Reasoning subtest will test your ability to solve arithmetic as well as math word problems. You will be presented with 15 scored questions on the computer exam and 30 scored questions on the paper and pencil exam, but you may also be given tryout questions. Concepts you will run into on the exam include:
Percentages
Ratio and Proportion
Fractions and Decimals
Addition, Subtraction, Division, and Multiplication
Can I use a calculator?
Unfortunately, calculators are not permitted.
When will I receive my test results?
You will receive your test results immediately upon completion of your exam if you take it on the computer. If you take a paper and pencil exam, you will be notified by your recruiter when your scores are available.
What if I failed? Can I take it again?
Yes. If you failed, you may retake the exam. However, you must wait one calendar month before retesting. If you fail a second time, you must wait an additional month, and if you fail the second time, you must wait six months.
How long are my scores good for?
Your scores are good for two years after taking the exam, meaning you have two years from the time of taking your exam to enlist.
How can I study for the ASVAB Arithmetic Reasoning exam?
In order to pass the ASVAB Arithmetic Reasoning exam, you will need to dedicate a lot of time to studying. Mometrix Test Preparation is here to help you study the right way. The content found inside of our study guide and flashcards is the same type of content you will run into on the day of your exam. Mometrix prepares you to answer each question on the ASVAB Arithmetic Reasoning exam with confidence. If you want to pass your exam and enlist in the Military, then choose Mometrix as your study guide.
ASVAB Test Online Prep Course
If you want to be fully prepared, Mometrix offers an online ASVAB Prep Course. The course is designed to provide you with any and every resource you might want while studying. The ASVAB Course includes:
Review Lessons Covering all the Topics
1100+ ASVAB Practice Questions
Over 220 Video Tutorials
More than 300 Electronic Flashcards
Money-back Guarantee
Free Mobile Access
and More!
The ASVAB Prep Course is designed to help any learner get everything they need to prepare for their ASVAB exam; click below to check it out.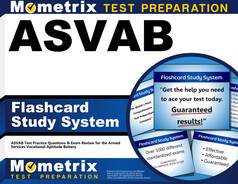 ASVAB Flashcards. Proven ASVAB test flashcards raise your score on the ASVAB test. Guaranteed.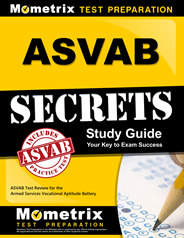 Prepare with our ASVAB Study Guide and Practice Questions. Print or eBook. Guaranteed to raise your score. Get started today!