The Armed Services Vocational Aptitude Battery (ASVAB) is used by the U.S. Military and high school guidance counselors throughout the United States. Recruiters for all branches of the military use the ASVAB to determine a candidate's eligibility to enlist in the military. Guidance counselors use the ASVAB to assist students in educational and career goals.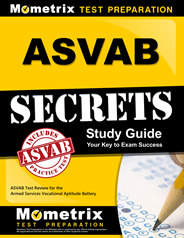 ASVAB format
The ASVAB is available in a computer-delivered (CAT-ASVAB) format and paper and pencil (P&P-ASVAB) format.
The CAT-ASVAB consists of ten subtests – General Science, Arithmetic Reasoning, Word Knowledge, Paragraph Comprehension, Mathematics Knowledge, Electronics Information, Auto Information, Shop Information, Mechanical Comprehension, and Assembling Objects.
The P&P-ASVAB has the same subtests as the CAT-ASVAB, but the Auto Information test and Shop Information test are combined into one subtest.
You take all subtests of the ASVAB one after the other, in one appointment. This article will discuss the ASVAB generally, and the Mathematics Knowledge subtest specifically.
Registration and cost
High school guidance counselors schedule the exam for their students. The exam is usually taken in the spring. ASVAB scores are valid for two years if taken in high school. There is no cost to take the ASVAB in high school.
If you are not a high school student, you will work with a recruiter from any branch of the military to schedule your ASVAB exam. Your ASVAB score is valid for six months.
For this article, it is assumed you are taking the ASVAB as a potential enlistee working with a recruiter.
Most ASVAB tests are held at Military Entrance Processing Stations (MEPS). There are 65 MEPS locations throughout the United States and Puerto Rico. If a MEPS is not conveniently located to you, your exam may be scheduled at a Military Entrance Test (MET) site. MET sites are often situated in federal government offices, National Guard armories, and Reserve centers. Your recruiter will schedule the exam location and date. There is no cost associated with the ASVAB test.
If your testing station is located outside of commuting distance, your recruiter will arrange transportation to and from the test site. Travel arrangements, meals, and lodging are covered if it is deemed necessary. Your recruiter will discuss the aspects of transportation and accommodation as needed.
Test delivery method
MEPS stations utilize the CAT-ASVAB test delivery method. The exam is adaptive – each question is selected based on your response to the previous question. If you get the answer correct, you are given a more difficult problem. If your response is incorrect, an easier question is selected. You take the CAT-ASVAB at your own pace within the specific time limit for the test. You cannot return to a previous question once you move on to the next, and incorrect answers are assessed a penalty. When you finish one section, you can move on to the next section without waiting for the others in your testing group.
MET sites use the P&P-ASVAB test delivery method. All test takers use the same exam, at the same pace. You can review and change your answers within the allotted time, and you move from one test to another as a group. There is no penalty for guessing on the P&P-ASVAB test. Guess if you have to; unanswered questions are considered incorrect during the scoring process.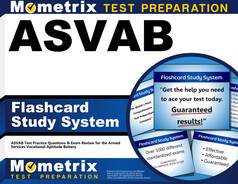 ASVAB Flashcards. Proven ASVAB test flashcards raise your score on the ASVAB test. Guaranteed.
Test content
The CAT-ASVAB Mathematics Knowledge test contains 16 multiple-choice, computer-adaptive questions. You have 20 minutes to complete the test before moving on to the next test subject. You cannot change your answers once they are submitted.
The P&P-ASVAB Mathematics Knowledge test contains 25 multiple-choice questions. You have 24 minutes to complete the test. If you have time, review your work and make sure you have answered every question – even if you have to guess. All testing candidates move to the next test as a group.
The Mathematics test evaluates your knowledge of high school-level mathematics principles and their applications. You have about a minute per question. To receive a high score, you need to move quickly and accurately. Subjects include:
Terminology and formulas
Functions
The order of operation
Algebraic expressions and equations
Geometry – shapes, lines, and formulas
Fractions, exponents, and numbers
You are not allowed the use of a calculator and formula sheets are not provided or allowed. All questions on the Mathematics Knowledge subtest are from a high school senior-level.
Your Mathematics Knowledge score is a part of your Armed Forces Qualification Test (AFQT) score.
Test day
Your recruiter will provide all the information you need on the day of your test, including reporting time and what to bring. Arrive early and prepared with the appropriate documents. Follow the directions of the testing administrator and ask questions if you have them before the exam starts.
Score
You receive an individual score for the Mathematics Knowledge test, indicated on a scale of one to 100. Fifty is the mean (average). Your recruiter will discuss with you the results of your ASVAB, and he will explain the next steps you need to take for enlistment.
The Mathematics Knowledge test is one of four tests that comprise your AFQT score. The AFQT score is the determining factor for your enlistment eligibility. The other three subtests that factor into your AFQT score are Word Knowledge, Paragraph Comprehension, and Arithmetic Reasoning.
Retaking the ASVAB
You have the option to retake the ASVAB two more times with a month break between attempts. However, you have to retake all tests within the ASVAB, not just one or two subtests. Discuss your concerns and scores with your recruiter – he or she will guide you appropriately.
Preparation
If you are determined to enter the military, you need to do well on the ASVAB. Not only does it determine your eligibility for military service, but it also opens career paths. The higher your score, the more career options are available. Don't face the ASVAB alone. Let Mometrix help you succeed. With a complete study suite of study guides, video tutorials, and flashcards, you will be prepared to put your best foot forward.  
ASVAB Online Prep Course
If you want to be fully prepared, Mometrix offers an online ASVAB Prep Course. The course is designed to provide you with any and every resource you might want while studying. The ASVAB Course includes:
Review Lessons Covering all the Topics
1,550+ ASVAB Practice Questions
Over 240 Video Tutorials
More than 300 Electronic Flashcards
Money-back Guarantee
Free Mobile Access
and More!
The ASVAB Prep Course is designed to help any learner get everything they need to prepare for their ASVAB exam; click below to check it out.