ASVAB stands for Armed Services Vocational Aptitude Battery. The ASVAB Mechanical Comprehension exam is one of ten subtests given to candidates wanting to enlist in the Military. If you really want to join the Military, then you will need to take and pass the ASVAB exam.
The exam is given at Military Entrance Processing Stations (MEPS), and Military Entrance Test (MET) sites nationwide, including Puerto Rico. MET sites are an option for individuals who do not have access to Military Entrance Processing Stations. MET sites can normally be found in federal government office buildings and National Guard armories.
How do I apply for the exam?
Applying for the ASVAB exam means applying to enlist in the Military. In order to do this, you will have to contact a local Military recruiter. The recruiter will determine your eligibility by asking you questions regarding your health, your criminal history, drug use, and your education. This is the initial screening before you take the ASVAB exam. If your recruiter determines that you are eligible, they will send you to take the ASVAB exam. At that time, you may also need to undergo a physical examination.
What does the ASVAB exam test you on?
There are ten different sections on the ASVAB; these include Word Knowledge, General Science, Arithmetic Reasoning, Paragraph Comprehension, Mathematics Knowledge, Electronics Information, Automotive and Shop Information, Mechanical Comprehension, Assembling Objects, and Verbal Comprehension.
Is there a fee for the ASVAB exam?
No. the ASVAB exam is free for candidates. Your recruiter will help you with the exam process.
How is the exam formatted?
The exam may be computer-based or paper and pencil. The entire exam requires you to answer around 135 questions along with a few unscored questions used to evaluate whether you are performing at the expected level. The exam takes about two hours to complete on the computer, but it also allows you to take the exam at your own pace.
Unlike the computer exam, the paper and pencil exam is timed. The computer-based exam also adapts to your ability to answer the questions correctly. This means that it will only get harder if you answer the previous questions correctly. Doing well results in an increasingly difficult exam, which is why preparation is required.
Make sure you do not share any information about the exam with other people because that can lead to serious consequences.
If I take the computer-based exam, am I able to change my answers?
Unfortunately, no. Once you select an answer, you are not able to go back and change it.
Is there a penalty for guessing answers?
Yes. For the computer-based exam, there is a penalty.
How is the exam scored?
The ASVAB exam gives you two scores, a Standard Score and an Armed Forces Qualifying Test (AFQT) score. A passing standard score is about a 50. The AFQT score is the most important score because it determines whether you qualify for the Armed Forced. Your AFQT score is made up of the scores you get on the Word Knowledge, Paragraph Comprehension, Math Comprehension, and Arithmetic Reasoning sections. Your AFQT score is a percentile score between 1-99.
What will the Mechanical Comprehension section test me on?
The Mechanical Comprehension section of the exam tests your knowledge of machines and how they work. You will need to be familiar with diagrams because you will be answering questions about them.
This section also requires you to have math skills in order to do well. You may be asked to explain mechanical functions using mathematical formulas. If you are taking a computer-based exam, you will be required to answer 16 questions. Paper and pencil exams require you to answer 25 questions.
It's important to note that the Mechanical Comprehension subtest is not a part of your AFQT score. Instead, the score you get on this subtest helps determine whether you are eligible for certain military jobs. Failing this section of your exam does not disqualify you from enlisting in the army as long as you get a passing AFQT score.
What will exam day be like?
On the day of your exam, make sure to arrive early, at least fifteen minutes. If you arrive late, you will need to reschedule your exam appointment. You will need to have current and valid photo identification on you
Am I able to use a calculator for the exam?
Calculators are not allowed during the exam.
When will I get my exam results?
If you are taking a computer-based exam, you will be given your results immediately upon completion. If you are taking a paper and pencil exam, your test results may take a few days. Your recruiter will contact you as soon as your results are available.
How long do I have after taking the exam to enlist in the Military?
After taking the ASVAB exam, you have two years to enlist.
Can I retake the exam if I failed it?
Yes. If you failed your ASVAB exam, you may retake it. Just keep in mind that you will have to wait one month before retaking it. if you fail a second time, you will have to wait two months before taking it again. If you fail after your second attempt, you will need to wait a total of six months.
How can I study for the ASVAB Mechanical Comprehension exam?
Preparation is the key to doing well on the ASVAB Mechanical Comprehension exam. With the right study material, you won't have to worry about failing. This is where Mometrix Test Preparation comes in. Through in-depth research, Mometrix has designed both a study guide and flashcards that are filled with the type of content and questions you will find on the actual exam. Our study guide helps you study effectively, and our flashcards are great for studying on the go or a quick brush up on information. If you want to pass your ASVAB exam on your first attempt, Mometrix is here to help.
ASVAB Online Prep Course
If you want to be fully prepared, Mometrix offers an online ASVAB Prep Course. The course is designed to provide you with any and every resource you might want while studying. The ASVAB Course includes:
Review Lessons Covering all the Topics
1,550+ ASVAB Practice Questions
Over 240 Video Tutorials
More than 300 Electronic Flashcards
Money-back Guarantee
Free Mobile Access
and More!
The ASVAB Prep Course is designed to help any learner get everything they need to prepare for their ASVAB exam; click below to check it out.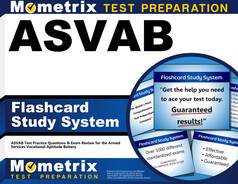 ASVAB Flashcards. Proven ASVAB test flashcards raise your score on the ASVAB test. Guaranteed.