The free ASVAB Paragraph Comprehension practice test is specifically designed to ensure that the test-taker is knowledgeable about the ASVAB and is able to know what to expect when it is time to take the Paragraph Comprehension portion of the ASVAB.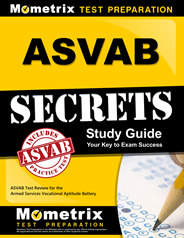 Prepare with our ASVAB Study Guide and Practice Questions. Print or eBook. Guaranteed to raise your score. Get started today!
The Armed Services Vocational Aptitude Battery (ASVAB) is a multiple choice test, used to determine qualification for enlistment in the United States military. The test is available to U.S. high school students to be used as a tool to identify potential career paths.
ASVAB format
The ASVAB is available as a computer-delivered (CAT-ASVAB) exam or as a paper and pencil (P&P-ASVAB) exam. The computer ASVAB consists of ten subtests, and the paper ASVAB consists of nine subtests.
All subtests are taken in one three-hour appointment. The CAT-ASVAB is self-paced, while candidates taking the P&P-ASVAB move through each assessment as a group. Time limits within the ASVAB for the subtests. This article discusses the generalities of the ASVAB, and the Paragraph Comprehension (PC) subtest specifically.
Registration and cost
There is no cost to take the ASVAB, whether you are taking it in high school or through a recruiter. High school students register for the exam through their career guidance office, and potential enlistees register for the ASVAB through a military recruiter. This article assumes you are considering enlistment in the military and that you are working with a recruiter.
The ASVAB is delivered at two locations – a Military Entrance Processing Station (MEPS) or a Military Entrance Test (MET) site. There are 65 MEPS stations located nationwide and in Puerto Rico. MET sites are often co-located in federal government office buildings, National Guard armories, or Reserve centers. Your location and deadlines determine your testing site. Talk with your recruiter to register.
If your assigned testing station is outside of commuting distance, your recruiter may arrange your transportation and accommodation (if required). If you have to travel to your testing location, your recruiter makes the arrangements, including payment. You have no out-of-pocket expenses associated with the ASVAB.
Test delivery method
The computer-delivered exam is used at all MEPS stations. The CAT-ASVAB is an adaptive exam. "Adaptive" means that the computer selects the difficulty level of each question based on your previous answer. The exam is designed to match your knowledge, and it provides an intuitive evaluation of your skills and knowledge. With the CAT-ASVAB, you can move through the battery of tests at your own pace. When you finish a test, you can move on to the next test without having to wait.
The paper and pencil exam is used at all MET sites. The same exam is delivered to all test takers at the same time. When you finish a test, you have to wait for the time period to expire, and then you move on to the next test at the same time as the rest of your group.
Test content
The CAT-ASVAB PC test contains 11 multiple-choice, computer-adaptive questions. You have 22 minutes to complete the test before moving on to the next test subject. You cannot change your answers once they are submitted. Incorrect and unanswered questions receive a penalty at scoring. Be sure you answer every question and avoid randomly selecting answers.
The P&P-ASVAB PC test contains 15 multiple-choice questions. You have 13 minutes to complete the test. You are not penalized for guessing, and you can review and make changes to your responses if you have time. The testing group moves together through each subtest.
The PC test evaluates your ability to find information in written text. The exam assesses your analytical and critical thinking skills when presented with a limited amount of data. Types of questions include:
Deductive – determining the purpose of the selected text
Aim – reasoning the goal of the selected text
Vocabulary – correctly identify the definition of selected words based on the context of the selected text
Your PC score is a part of your Armed Forces Qualification Test (AFQT) score.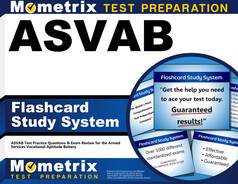 ASVAB Flashcards. Proven ASVAB test flashcards raise your score on the ASVAB test. Guaranteed.
Test day
On the day of your exam, arrive early and with the required identification. Leave your belongings at home or in your car. Everything you need to complete the ASVAB is provided; do not bring anything with you to the testing facility. Your recruiter will go over the rules and expectations with you. Be sure to ask your questions, so you are at ease and prepared on your testing day.
Score
You receive an individual score for the PC test, indicated on a scale of one to 100. Fifty is the mean (average). After your exam, your recruiter will discuss your results with you. He or she will discuss your ASVAB and AFQT scores and the next steps that you need to take for enlistment.
The Paragraph Comprehension test is one of four tests that comprise your AFQT score. Your AFQT score determines your enlistment eligibility. The AFQT score is the determining factor for your enlistment eligibility. The other three subtests that factor into your AFQT score are Word Knowledge, Mathematics Knowledge, and Arithmetic Reasoning. Each military branch has a different AFQT requirement.
Retaking the ASVAB
You can retake the ASVAB two times. Between each attempt, you have to wait one calendar month. If you need to take the ASVAB a fourth time, you have to receive permission from your recruiter. When you retake the ASVAB, you retake the entire battery of tests. Unfortunately, you cannot retest on only the test(s) you did poorly on.
Preparation
You have to receive high scores on the ASVAB to enlist in the military. The higher the score, the better your training and bonus options. With Mometrix's suite of study tools, your chances of a higher score increase. The study guide, video tutorials, and flashcards are designed to guide you through your preparations by presenting information, tips, and tricks in an easy-to-follow, clearly defined process. Purchase the study tools, and if you do not get the ASVAB score you want on your first testing attempt, Mometrix will refund 100% of your investment, no questions asked.
ASVAB Test Online Prep Course
If you want to be fully prepared, Mometrix offers an online ASVAB Prep Course. The course is designed to provide you with any and every resource you might want while studying. The ASVAB Course includes:
Review Lessons Covering all the Topics
1100+ ASVAB Practice Questions
Over 220 Video Tutorials
More than 300 Electronic Flashcards
Money-back Guarantee
Free Mobile Access
and More!
The ASVAB Prep Course is designed to help any learner get everything they need to prepare for their ASVAB exam; click below to check it out.