Social Work licensing boards in the United States, its territories, and some Canadian provinces recognize the Association of Social Work Boards (ASWB) Clinical examination for licensure. Successful completion of the exam is one step in the licensing process. For specific details on the requirements of licensure in your state, check with your local licensing board.
This article discusses the Clinical examination, one of five licensure examinations offered by the ASWB.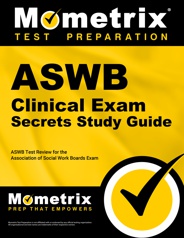 Prepare with our ASWB Study Guide and Practice Questions. Print or eBook. Guaranteed to raise your score. Get started today!
Eligibility
The minimum requirements to sit for the Clinical exam include a Master in Social Work (MSW), with two years of post-masters clinical social work experience. Specific licensure requirements are determined by your local regulatory board, and there may be fees associated with your license application which are separate from the exam fee. Once your application for licensure is approved, you will receive an authorization to test.
Registration for the Clinical exam is conducted through the ASWB website.
Test design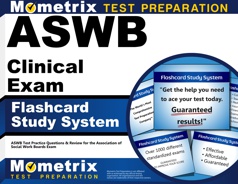 ASWB Flashcards. Proven ASWB test flashcards raise your score on the ASWB test. Guaranteed.
The Clinical examination is a computer-delivered, four-hour test with 170 multiple-choice questions assessing your competence in four categories of practice. Of the 170 questions, only 150 are scored. Twenty questions are included to evaluate the validity of the question for possible inclusion in future exams. Each question contains four possible answers, with only one correct response.
The purpose of the exam is to ensure you have the minimum competencies required as an entry-level Clinician. The test contains competencies divided into four content areas (categories of practice) with each content area assessing your knowledge, skills, and abilities (KSAs) within each area.
The examination consists of the following content areas:
Human development, diversity, and behavior in the environment – 24%
KSAs assessed include your knowledge of human growth and development, human behavior in social environments, and diversity and discrimination.
Assessment, diagnosis, and treatment planning – 30%
Competencies include biopsychosocial history and collateral data, assessment and diagnosis, and treatment planning.
Psychotherapy, clinical interventions, and case management – 27%
KSAs examined include therapeutic relationship, the intervention process, service delivery and management of cases, and consultation and interdisciplinary collaboration.
Professional values and ethics – 19%
Topics covered include professional values and ethical issues, confidentiality, and professional development and use of self.
Registration, cost, and location
Once your licensing board approves your application for licensure, you can register for the Clinical examination. Registration is through the ASWB website and can be completed online, by fax, by phone, or by mail. The registration fee of $260.00 is paid by MasterCard, Visa, Discover, money order, and certified check. Personal checks are not accepted.
Within two business days of registration, ASWB sends an authorization to test email. The email includes instructions on scheduling your exam appointment. Hold on to your authorization – you will need it on test day. You have one year from the date of the authorization to schedule your exam.
The Clinical exam is held at Pearson Vue test centers located nationwide. Most centers offer testing appointments Monday through Friday, with Saturday appointments available at some centers.
Test Day
On the day of your exam, arrive 30 minutes before your appointment. You are required to bring two forms of identification and your authorization to test. When you check in, your identification is verified, and your photograph and palm vein is taken. Once the pre-test activities are completed, you are escorted to your testing station.
At your station, you are provided everything you need for the exam including scratch paper and a pencil. You cannot bring anything with you to the testing station – leave your personal belongings at home or secured in the provided locker.
Before submitting your test for evaluation, review your answers. When you are satisfied with your responses, send your exam for scoring and report to the test proctor for an unofficial score report.
Exam scoring and results
At the conclusion of your exam, an unofficial score report is provided. The report will indicate your pass or fail status, and this is the only notification you will receive. Your official report is forwarded to the ASWB and the social work board in the jurisdiction you are applying for licensing. It may take up to two weeks for your board to receive your report.
You receive one point for each correct answer, and incorrect or unanswered questions do not have a penalty. The required passing score varies depending upon the version of the test you take. Passing scores range from 93 to 107.
If you fail the exam, ASWB will supply you a diagnostic report to help you identify areas for improvement. You may retake the exam after a 90-day waiting period.
Online Social Work ASWB Clinical Prep Course
If you want to be fully prepared, Mometrix offers an online LCSW Prep Course. The course is designed to provide you with any and every resource you might want while studying. The LCSW Course includes:
Review Lessons Covering Every Topic
1,000+ LCSW Practice Questions
More than 400 Digital Flashcards
Over 20 Instructional Videos
Money-back Guarantee
Free Mobile Access
and More!
The LCSW Prep Course is designed to help any learner get everything they need to prepare for their LCSW exam. Click below to check it out!
Preparation
The ASWB Clinical exam is a critical component to obtaining your Social Work license. The exam covers a wide range of necessary knowledge, skills, and abilities, and it can be overwhelming trying to study for an exam with such an intense knowledge base. Use the flashcards and study guide developed by Mometrix Test Preparation. The flashcards provide an easy-to-use method to recognize and understand vocabulary, concepts, and theories. The study guide is a comprehensive review of the topics and concepts needed to be successful as a Clinical Social Worker. With Mometrix by your side, your success is guaranteed.
ASWB Exam Resources