The American Registry for Diagnostic Medical Sonography (ARDMS) administers the Breast (BR) specialty examination to certify the continuing competency of ultrasound professionals.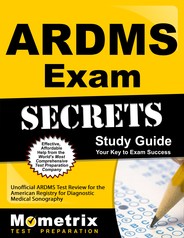 Prepare with our ARDMS Study Guide and Practice Questions. Print or eBook. Guaranteed to raise your score. Get started today!
The BR exam consists of 170 multiple-choice questions covering the major elements and evaluation techniques of the breast; examinees are given three hours to complete the test. Exam takers must successfully pass both the BR exam and the Sonography Principles & Instrumentation (SPI) exam to earn their RDMS credential.
The Breast specialty exam is graded on a percentage scale, with some topics given a greater percentage of the overall score than others. Topics are based on knowledge of anatomy, equipment and evaluation techniques, ultrasound, mammography and magnetic resonance imaging (MRI), indications, abnormalities, diseases, masses and cysts, and invasive procedures.
The test topics, with percentage importance, are: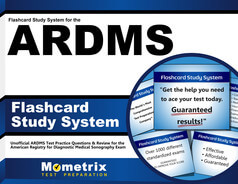 ARDMS Flashcards. Proven ARDMS test flashcards raise your score on the ARDMS test. Guaranteed.
benign versus malignant features (25%)
breast instrumentation and technique (20%)
normal anatomy (20%)
specific lesions: benign (10%)
malignant (10%)
invasive procedures (5%)
There is also an "other" category, worth 10% of the overall score, which includes MRI appearance in implant leakage and cancer nodes, ductography, sentinel node procedure, histology, and implants.
Breast specialty exam candidates can take advantage of many online test preparation resources, including practice exams, sample questions, content outlines, and study guides. Several print-based publishers also offer study manuals with strategies for test taking.
Applying to take the Breast specialty examination is a multistep process that includes registering with the ARDMS, paying any exam or renewal fees, and submitting appropriate documentation. Candidates must also pass the Sonography Principles & Instrumentation (SPI) exam within five years of passing the specialty exam to earn the RDMS credential. The two exams can be taken in any order.
To qualify to take the Breast specialty and SPI exams, candidates must submit proof of education; verification of clinical experience; transcripts and licenses; and letters from a supervising physician, technologist, or program director. The ARDMS provides extensive step-by-step guidelines for the application process, including checklists to ensure that the application is complete.
After completing the Breast specialty exam at a local test center, examinees will have immediate online access to their test results in the form of a numerical value between 300 and 700; a score of 555 or above is a passing grade. Candidates who do not pass the exam must wait a minimum of 72 hours to reapply and 60 days to take the exam again.
Other ARDMS Tests