In order to become certified as an associate in project management, one must pass the Certified Associate in Project Management (CAPM) exam administered by the Project Management Institute (PMI). The CAPM exam has been designed to ensure that certified individuals have sufficient knowledge of project management processes and terminology. The CAPM exam is considered appropriate for the following individuals: project team member; junior project management practitioner; novice to project management; or college student interested in project management.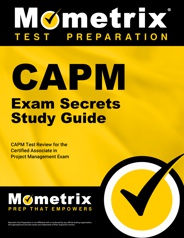 Prepare with our CAPM Study Guide and Practice Questions. Print or eBook. Guaranteed to raise your score. Get started today!
The questions for the CAPM exam are taken from the 12 chapters of the Project Management Body of Knowledge.
The CAPM exam consists of 150 multiple-choice questions, 15 of which are pretest questions used to design future versions of the CAPM exam.
It is impossible to tell which questions are the pretest questions. Candidates are given three hours to complete the CAPM examination.
Candidates who take the computer-based version of the CAPM exam will receive a printed copy of their score report immediately after finishing.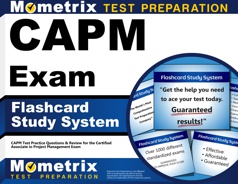 CAPM Flashcards. Proven CAPM test flashcards raise your score on the CAPM test. Guaranteed.
Candidates who take the paper-based version of the CAPM exam will receive their scores in six to eight weeks. The score report will indicate whether the candidate has passed or failed, and will provide a percentage breakdown of the candidate's performance in each content area.
The minimum passing score is determined by a modified Angoff procedure, overseen by a group of test experts. Individuals interested in sitting for the CAPM exam may apply at the PMI website.