The American Nurses Credentialing Center's (ANCC) Cardiac Vascular Nursing Certification is used to validate entry-level clinical knowledge and skills as a registered nurse in the cardiac-vascular specialty. The Registered Nurse-Board Certified (RN-BC) credential is awarded to candidates who successfully pass the exam. The National Commission for Certifying Agencies and the Accreditation Board for Specialty Nursing Certification accredits the credential.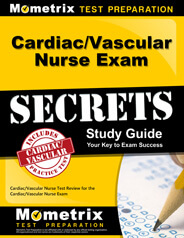 Prepare with our Cardiac Vascular Nurse Study Guide and Practice Questions. Print or eBook. Guaranteed to raise your score. Get started today!
Eligibility
Candidates for the Cardiac Vascular Nursing Certification must meet eligibility requirements including a current, active RN license; two years of full-time experience as a registered nurse; 2,000 hours of clinical practice in cardiovascular nursing in the past three years; and completed 30 hours of continuing education in cardio-vascular nursing in the past three years. You must meet all requirements before applying for the examination.
Test design
The Cardiac Vascular Nursing examination consists of 150 multiple-choice, computer-delivered questions. Twenty-five questions are validation questions scattered throughout the test and do not count toward your final score.
The exam contains four domains:
Assessment and Diagnosis | 31 questions–25%
Categories covered in this section include data collection and interpretation, including your understanding of evidence-based assessment tools; and pharmacologic, non-pharmacologic, and complementary therapies. Your ability to conduct comprehensive clinical interviews and the use of appropriate tools and techniques to perform systematic cardiac-vascular assessments are evaluated.
Planning and Implementation | 44 questions–35%
The content categories include evidence-based practice guidelines, scope and standards of practice, legal and ethical considerations, procedures, surgeries, pharmacologic therapies, non-pharmacologic and complementary therapies, as well as risk-reduction measures. Skills evaluated include care coordination and interventions.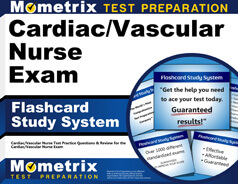 Cardiac Vascular Nurse Flashcards. Proven Cardiac Vascular Nurse test flashcards raise your score on the Cardiac Vascular Nurse test. Guaranteed.
Education and Modification | 28 questions–22%
Topics examined include your knowledge of expected outcomes, drug interactions, and skills with adverse reaction events and corresponding urgent and emergent conditions.
Patient and Community Education  | 22 questions–18%
Under this domain, your knowledge about the following will be tested: cardiac-vascular risk factors, chronic disease management, cardiac-vascular education topics, self-management strategies, community resources.
You have three hours to complete the exam.
Registration, cost, and location
Once you have determined your eligibility, apply to take the exam through the ANCC website. The application fee is $295.00 for American Nurses Association (ANA) members, $340.00 for Society for Vascular Nursing members, $340.00 for Preventative Cardiovascular Nurses Association members, and $395.00 for non-members. The application fee includes a non-refundable administrative fee of $140.00, and acceptable payment methods include credit/debit card and personal check.
When your application is approved, AANC will email you an authorization to test. Use the authorization to schedule your exam at a testing center convenient for you. You have 90 days from the date of the authorization to schedule your test. All test centers have appointments Monday through Friday, with some centers offering Saturday testing. Centers are located nationwide and in select locations overseas.
Test Day
Follow the directions in your confirmation email for reporting date, time, and location. Everything you need for the exam is provided, and you are not permitted to bring anything with you into your testing station.
At your testing station, follow the directions of the test center personnel. A short tutorial is offered before your official exam begins. While you are taking the exam, you have the opportunity to mark questions for further review. You have approximately 1.2 minutes per question. Instead of taking too much time on a difficult question, annotate the question for further review and move on to the next question. When you have worked through the entire exam, return to your marked responses, and review your work. When you have finished your review, submit your answers for scoring. Your test will end, and your responses are sent for grading automatically at the end of the allotted time.
Exam scoring and results
The score range for the exam is 0 to 500. To pass the exam, you need to obtain at least 350.
Your test results are provided upon the conclusion of your exam. The exam is pass or fail, and your certification is valid the day you pass the exam. ANCC provides one verification report at no charge. Verification of certification is not automatically sent to your state board of nursing or your employer. You have to request your verifications.
If you do not pass the exam, your score report includes diagnostic information designed to direct your study efforts for a retest. You can retest three times in 12 months, and you need to wait 60 days before retaking the exam.
Within four weeks a wall certificate is mailed to successful test candidates.
Prepare for your Cardiac Vascular Nursing certification examination
The certification exam identifies candidates as professionals in the top of their field. To be successful, you need to develop an effective study plan, and Mometrix Test Preparation has the tools you need to be successful. The flashcards and study guide are filled with the critical information you need to master to pass the exam. Invest in your future with Mometrix's suite of study tools.