The Cardiac Surgery Certification indicates specialization in all aspects of patient care in the area of cardiac surgery. Healthcare professionals with this certification are frequently employed to assess and treat cardiac patients throughout the perioperative period.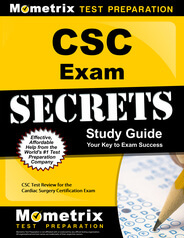 Prepare with our CSC Exam Study Guide and Practice Questions. Print or eBook. Guaranteed to raise your score. Get started today!
In order to take the Cardiac Surgery Certification exam, the applicant must be a licensed Registered Nurse or Advanced Registered Nurse Practitioner.
The applicant must also hold current certification in critical care nursing or a specialized surgical certification such as Certified Nurse OR or Certified Registered Nurse First Assistant.
At least 1,750 hours of patient care in an acute or critical care must have been completed with at least 875 of those hours devoted to the care of patients within the first 48 hours following cardiac surgery.
The CSC exam is available year-round at testing centers across the United States.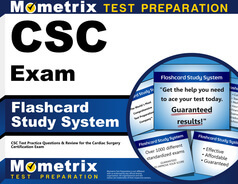 CSC Exam Flashcards. Proven CSC test flashcards raise your score on the CSC test. Guaranteed.
The fee to take the CSC exam is $135 for members of the American Association of Critical Care Nurses (AACN) or $180 for nonmembers.
The CSC exam consists of 90 multiple-choice questions and 2 hours are allotted to complete the CSC exam. Over one-half of the CSC exam tests the RN and ARNP's knowledge on patient problems that may develop within the first 48 hours following cardiac surgery.
This includes problems that may arise in all of the body's systems. The remainder of the CSC exam focuses on specific nursing interventions to be performed to treat these problems.
The Cardiac Surgery Certification is valid for 3 years. At the end of that time period, the licensed RN or ARNP must have been employed for at least 432 hours, with 144 of those hours within the past year, in the area of caring for patients who underwent cardiac surgery within the past 48 hours.
In addition, at least 25 continuing education hours should have been completed in the area of cardiac surgery or the RN or ARNP can retake the certification exam. The cost for renewal of the Cardiac Surgery Certification is $110 for AACN members and $155 for nonmembers.