The Certified Biomedical Equipment Technician examination, commonly known as the CBET exam, is one of the most respected assessments for prospective healthcare workers. Success on this examination requires consistent and diligent study for months in advance.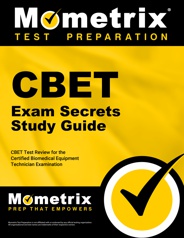 Prepare with our CBET Study Guide and Practice Questions. Print or eBook. Guaranteed to raise your score. Get started today!
The CBET exam covers the following content areas:
anatomy and physiology (about 13% of the exam)
public safety in the health care facility (about 17%)
fundamentals of electricity, electronics, and solid-state devices (about 17%)
medical equipment function and operation (about 26%)
medical equipment problem solving (about 27%)
Within each of these content areas, there are several subjects that must be studied thoroughly. For instance, the anatomy and physiology content area includes questions on body systems, organs, blood, and terminology. The questions in this section of the CBET exam generally relate closely to the precise information required to perform as a biomedical equipment technician.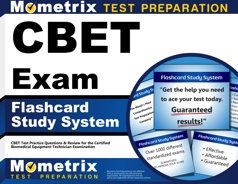 CBET Flashcards. Proven CBET test flashcards raise your score on the CBET test. Guaranteed.
In the public safety in the health care facility section, meanwhile, the questions center on the following areas: electrical, chemical, radiation hazards, biological, fire, and codes and standards. You will need to perform extensive research on the various and particular dangers relevant to practice as a biomedical equipment technician.
As in the other areas of the examination, the questions have been tailored to the real issues confronting a practicing technician. The CBET exam was developed by the Association for the Advancement of Medical Instrumentation.
CBET Study Guide
Explore our free CBET review provided by Mometrix. Check out our premium CBET study guide to take your studying to the next level. If you benefit from these materials, just click the link below! To compliment our CBET book, we also offer extensive flashcards for even more CBET exam prep help. We hope you enjoy our products! Your purchase helps us make more great, free CBET certification content for test-takers just like yourself.