The Certified Clinical Hemodialysis Technician examination, commonly known as the CCHT exam, is one of the top exams in the field of nephrology nursing. The exam covers a wide range of topics, which are outlined in a comprehensive exam blueprint.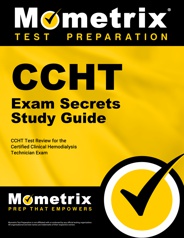 Prepare with our CCHT Study Guide and Practice Questions. Print or eBook. Guaranteed to raise your score. Get started today!
Besides the topics mentioned there, however, there are a number of other subjects that must be mastered for this exam. For instance, success on the CCHT exam requires knowledge of aseptic technique, standard precautions, and infection control. Moreover, you must understand the basics of anticoagulation, as well as the anesthetics commonly used for fistula needle placement.
The CCHT exam does not just cover technical information, however. There are also questions related to basic communication skills and the roles of health team members. A clinical hemodialysis technician needs to be familiar with the signs and symptoms of infection, venipuncture techniques, and dialyzer reuse processes.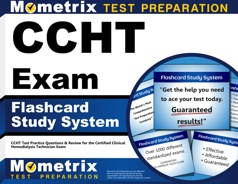 CCHT Flashcards. Proven CCHT test flashcards raise your score on the CCHT test. Guaranteed.
In addition, the exam requires knowledge of the basic principles of patient teaching and the reinforcement of teaching, since patients will need to obtain certain skills in order to monitor and maintain their own health. The exam also requires you to know the normal range for vital signs and general patient condition
Some basic areas of medical practice are covered, if only tangentially, by the CCHT exam. These include the documentation of procedures, clinical practice guidelines (for example, DOQI), and the use of syringes and needles.
As you can see, success on this assessment requires intense study and careful research. Be sure to set aside large amounts of time for study months in advance of the exam. The CCHT exam was developed by the Nephrology Nursing Certification Commission.
CCHT Study Guide
Explore our free CCHT review provided by Mometrix. Check out our premium CCHT study guide to take your studying to the next level. If you benefit from these materials, just click the link below! To compliment our CCHT book, we also offer extensive flashcards for even more CCHT exam prep help. Finally, we offer a comprehensive online course that includes lessons, review videos, practice test, and more. We hope you enjoy our products! Your purchase helps us make more great, free CCHT certification content for test-takers just like yourself.