The Certified Child Life Specialist (CCLS) exam is intended to test candidates to ensure that they have achieved a certain standard of knowledge and ability. The Child Life test can result in pay increases for many candidates as employers view this certification as a commitment to excellent child care.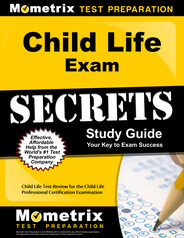 Child Life Study Guide and Practice Questions. Print or eBook. Guaranteed to raise your score. Get started today!
A Child Life Specialist is trained to work with children and their families in the occurrence of stressful life events. In order to become a Child Life Specialist, a candidate must have a Bachelor's or Master's degree in a curriculum that involves human growth and development, counseling, psychology, or education.
The Child Life exam was created by a committee of child life experts. Frequent surveys are conducted among child life practitioners to ensure the Child Life test content remains current and relevant.
The Child Life exam is sponsored by the Child Life Council, or CLC. The CLC has designated a Certifying Committee responsible for overseeing the Child Life program. There are many benefits to becoming Child Life certified including a higher sense of self-worth, a validation of specialized knowledge, demonstrating a professional commitment, and enhanced credibility.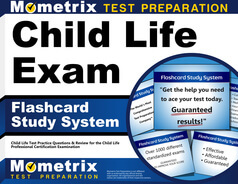 Child Life Exam Flashcards. Proven Child Life Exam flashcards raise your score on the Child Life Exam. Guaranteed.
In order to become Child Life certified, a candidate must meet three requirements. The must hold a baccalaureate degree, must have taken applicable college courses, and must have clinical experience in the area of child life. Candidates who are unsure if their college course work is applicable can seek a course work review from the CLC prior to applying for the CCLS exam.
The Child Life exam assesses a candidate's knowledge and skills pertaining to the areas of child life and development that current child life professionals deem most important. Because the CCLS exam is reviewed by child life professionals, the content reflects the actual knowledge applied by these professionals on a daily basis.
The Child Life test is composed of 150 multiple-choice questions. The Child Life test is divided into three areas: assessment, intervention, and professional responsibility. The area of assessment covers topics such as the observation of family life to obtain objective data, identification of developmental issues, identification of diversity issues, and recognition of psychological factors.
The area of intervention covers topics such as providing psychological preparation for life challenges, providing developmentally appropriate support for life challenges, providing support services for situations of grief or loss, and monitoring progress of a child's response to an intervention plan. The area of professional responsibility covers topics such as professional standards, document assessment, continuing education, and community outreach programs.