The American Association of Critical-Care Nurses (AACN) offers critical care nurses an opportunity to validate their skills and knowledge through certification examination. The Critical Care Nursing Certification (CCRN) is for registered nurses who provide direct patient care to acutely/critically ill adult, pediatric, and neonatal patients.  
There are three specialty topics of the CCRN: Adult CCRN, Pediatric CCRN, and Neonatal CCRN. This article highlights the Adult CCRN examination and the eligibility, design, and delivery of the certification.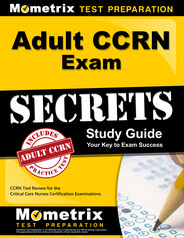 Prepare with our CCRN Adult Exam Study Guide and Practice Questions. Print or eBook. Guaranteed to raise your score. Get started today!
Eligibility
Eligibility to sit for the CCRN examination includes:
An unencumbered and current Registered Nurse (RN) or Advanced Practice Registered Nurse (APRN) license; and
1,750 hours in direct care of acutely/critically ill patients in the past two years, with 875 hours of direct care of acutely/critically ill patients the year before the examination application; or
2,000 hours in direct care of acutely/critically ill patients over the past five years, with 875 hours of direct care obtained in the year before the application; and
Practice verification by your clinical supervisor or colleague (RN or physician).
Application methods
Paper application
The paper application is for group registrations, individuals wishing to take the paper and pencil exam, and those who are testing outside of the United States. Complete the registration form found in the CCRN manual, including the application fee, and allow two to three weeks for processing.
Online application
Register online at the AACN website. Complete the registration information and submit the application fee. Your registration is processed 24 hours a day, seven days a week.
Scheduling of your exam
Successful applicants receive an email confirmation from AACN. Within five to ten days after receipt of the confirmation email, you will receive an approval-to-test postcard and email from the testing service. Follow the directions in the approval to schedule your exam. You have 90 days from receipt of the authorization to schedule your certification with the testing center.
The exam is offered twice a day, Monday through Friday, at over 300 testing facilities nationwide.
Cost
The application fee is payable in U.S. funds by Visa, MasterCard, American Express, or Discover Card. Check or money order is available for mail-in applications. The application fee is $235.00 for AACN members and $340.00 for non-members.
Online CCRN Adult Prep Course
If you want to be fully prepared, Mometrix offers an online CCRN Adult Prep Course. The course is designed to provide you with any and every resource you might want while studying. The CCRN Adult Course includes:
Review Lessons Covering All the Topics
900+ CCRN Adult Practice Questions
Over 80 Instructional Videos
More than 550 Electronic Flashcards
Money-back Guarantee
Free Mobile Access
and More!
The CCRN Adult Prep Course is designed to help any learner get everything they need to prepare for their CCRN exam; click below to check it out.
Test design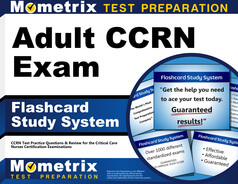 CCRN Adult Exam Flashcards. Proven flashcards raise test scores on the CCRN Adult exam. Guaranteed.
Based on AACN's Synergy Model for Patient Care, the exam assesses your ability to integrate your knowledge, skills, and abilities delivering acute/critically ill patient care. Consisting of 150 multiple-choice questions, examined subject matter covers clinical judgment (80%), and professional caring and ethical practice (20%).
The exam assesses your integration of knowledge, skills, abilities, and experience delivering direct pediatric patient care and consists of 150 multiple-choice questions. The test contains questions covering clinical judgment (80%) and professional caring and ethical practice (20%) based on AACN's Synergy Model for Patient Care.
The clinical judgment content has five sections:
Cardiovascular (18%)
Pulmonary (17%)
Endocrine/Hematology/Gastrointestinal/Renal/Integumentary (20%)
Musculoskeletal/Neurology/Psychosocial (13%)
Multisystem (14%)
Twenty percent of the exam questions are drawn from the following areas:
Advocacy/Moral agency
Caring practices
Response to diversity
Facilitation of learning
Collaboration
Systems thinking
Clinical inquiry
The skills, knowledge, and abilities assessed include your clinical judgment, advocacy/moral agency, caring practices, collaboration, systems thinking, response to diversity, facilitation of learning, and clinical inquiry.
Regardless of the test-delivery method (computer or pen and pencil), you have three hours to complete the exam.
Test Day
Arrive on time for your testing appointment and leave your personal belongings at home or in your car. Two valid forms of identification are required when you check-in, and you are not allowed to bring anything with you into the testing center.
At your testing station, all materials needed for the exam are provided, and you have an opportunity to take a familiarization pre-test before beginning your exam. After the pre-test, your exam begins.
During the exam, you can annotate questions to review. Try not to spend too much time on each item, so you have time to double-check your work. When you have completed the exam, and you are satisfied with your responses, submit your exam for evaluation, and report to the test proctor for your score report.
Scoring
Your score report indicates your pass or fail status with information on your performance in each content area. The passing score is determined by a standard that is based on the difficulty of the exam. If you did not pass the exam on your first attempts, you can retake the exam at a discounted rate.
Four weeks after your testing window closes, AACN will mail your certificate.
Preparing for the exam
The Adult Critical Care Nursing Certification identifies you as a care provider with specialized knowledge and experience required to provide acute and critical care to patients at a highly-skilled and experienced level. CCRN certification can lead to increased responsibility, career advancement, and personal satisfaction.
Only 79% of CCRN examinees pass on their first attempt. The exam is comprehensive and intense, and guidance on developing your study plan will help you succeed on your first try. Use Mometrix Test Preparation's study guide, flashcards, and Online Course, to direct your studies. The study guide, flashcards, and Online Course cover each topic, vocabulary word, and characteristics included in the CCRN exam. A 100% money-back guarantee ensures your satisfaction.