The CCRN Pediatric Exam is a certification exam created by the American Association of Critical-Care Nurses Certification Corporation that is very similar to the CCRN Adult exam except that the CCRN Pediatric Exam is used to determine whether or not an individual has the knowledge necessary to be an effective critical care nurse for child patients rather than adult patients.
The CCRN Pediatric Exam does not register an individual as a registered nurse and is usually not required for an individual to work in a pediatric critical care unit. However, it is an indication that an individual has an advanced knowledge of critical care procedures related to the care of children and allows the individual to use the CCRN letters after his or her licensing credentials.
The CCRN Pediatric Exam consists of 150 multiple-choice questions, 125 of which are scored and 25 that are not scored, that covers information related to the following areas:
Cardiovascular (19%)
Endocrine (5%)
Gastrointestinal (5%)
Hematology and Immunology (6%)
Multisystem (9%)
Neurology (10%)
Pulmonary (22%)
Renal (4%)
Advocacy and Moral Agency (2%)
Caring Practices (4%)
Collaboration (4%)
Clinical Inquiry (2%)
Facilitation of Learning (4%)
Handling Diversity (2%)
Systems Thinking (2%)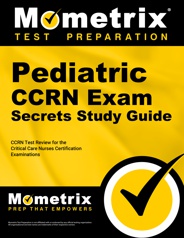 Prepare with our Pediatric CCRN Study Guide and Practice Questions. Print or eBook. Guaranteed to raise your score. Get started today!
Individuals taking any CCRN exam will have three hours to complete the exam. The CCRN Pediatric Exam is scored in the same manner as the CCRN Adult exam and the individual will receive a final grade of pass or fail depending upon whether or not the individual answers enough questions correctly to reach the passing threshold. The number of correct responses required to pass the exam is usually approximately 70% or 88 questions, but varies depending upon exactly which exam questions an individual receives.
For an individual to be eligible to take the CCRN Pediatric Exam, the individual must be a registered nurse without any restrictions on his or her license of any kind. The candidate must also have worked in a critical care environment handling childcare for at least 1,750 hours of which 875 hours must have been completed in the year prior to the candidate's application.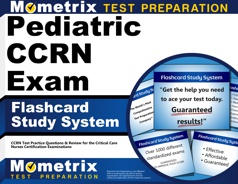 Pediatric CCRN Flashcards. Proven Pediatric CCRN test flashcards raise your score on the Pediatric CCRN test. Guaranteed.
Potential candidates can register for the CCRN Pediatric Exam on the AACN Certification Corporation website and can choose to take the CCRN test either in a computerized form administered by AMP or a written form administered by the NTI. The registration fee for the CCRN Pediatric Exam is $220 for AACN members and $325 for nonmembers.
CCRN Practice Tests