In order to become a certified cardiographic technician (CCT) you will first need to take and successfully pass the CCT exam. This test is designed to measure your command of essential, on-the-job skills and knowledge relating to all of the tasks that a CCT performs. It's a rigorous, content-driven test that will require plenty of preparation.
What Do I Need to Register for the CCT Exam?
Before you can schedule your appointment, you need to submit an application and proof that you fulfill certain prerequisite criteria. That includes a high school diploma, GED, or the equivalent and proof that you meet at least one of the below criteria:
Currently enrolled or recently graduated from a cardiovascular or allied health training program.
Currently or previously employed in the cardiovascular technology field or in an AMA-recognized allied health field.
Fulfilled all requirements for an undergraduate or graduate degree in a relevant field of science or physical health from a recognized institution.
Have at least two years of volunteer service in the field of cardiovascular technology.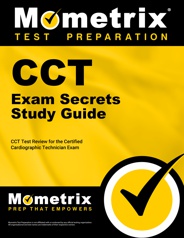 Prepare with our CCT Study Guide and Practice Questions. Print or eBook. Guaranteed to raise your score. Get started today!
Once you've provided the necessary documents to prove you meet the criteria, your application will be reviewed and, if everything's in order, you'll receive an authorization to test. With that, you will be able to schedule an appointment at a testing center convenient for you.
You will have to schedule your appointment for a date within your 90-day eligibility window. That window begins on the day you received the authorization to test. So, if you feel you need more than 90 days to prepare for the exam, you should begin studying before you submit your initial application.
It's highly recommended that you book your appointment as soon as you receive authorization because seats are given on a first-come first-served basis, so you want to reserve early to make sure you get the date and location you prefer.
What Do I Need to Bring with Me on Test Day?
On the morning of the exam, be sure you don't leave the house without the following items:
Your printed authorization to test notice.
Your valid, government-issued ID (such as driver's license, passport, state ID, military ID, or an alien registration card).
A secondary ID which can either be another valid, government-issued ID or anything with at least a name and signature or a name and recent recognizable photo that meets ID requirements).
Beyond those three things, you won't be allowed to bring anything else into the exam room, so it's best to leave your phone, purse, and other personal items at home or in the car. Some testing centers provide lockers for those things but not all so if you are hoping for a locker, you should call the location ahead of time to ask.
What Will I Be Tested on During the CCT Exam?
This is a content-driven exam based entirely on the tasks and functions of a cardiographic technician. Here's a quick overview of what you'll be tested on:
Pre-Procedural Activities – 10%
Performing ECG (12 lead, 15 lead, etc.) – 39%
Performing Stress Tests – 10%
Performing Ambulatory Monitoring (Holter, Event, Telemetry, Transteleophonic, Pacemaker, etc.) – 4%
Performing Rhythm Analysis – 37%
There is a total of 130 questions, 110 of which count toward your score. The other 20 are unscored questions being considered for use in future versions. The unscored questions aren't identified, however, so you should treat all 130 questions like scored questions. You will have one hour and 50 minutes to complete the exam.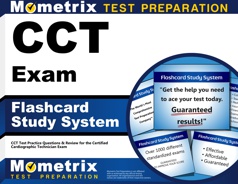 CCT Flashcards. Proven CCT test flashcards raise your score on the CCT test. Guaranteed.
How Much Time Should I Spend Studying?
The amount of time you need to spend studying for this test will depend a lot on your level of experience. If you haven't worked in a relevant field yet, you'll probably need somewhere between four to six weeks to review all the procedures, tasks, and knowledge that this test measures.
If you have some work experience already, you won't need to spend quite as much time studying, but you should still give yourself a week or two to review everything and make sure all of it is fresh in your mind.
Whether you're planning to study for one week, twelve weeks, or anything in between, you need great study aids to make sure those study sessions actually stick. One of your best options is the Mometrix Study Guide. This guide was crafted by a team of experts who know this test inside and out. So, you'll get a comprehensive overview written in clear, easy-to-understand language.
Pair that guide with the Mometrix Flashcards to maximize your results. The flashcards are just as comprehensive but even more portable and interactive than the guide, so they work beautifully together. Come test day, you'll feel like a CCT expert!