The Certified Clinical Transplant Nurse (CCTN) examination tests the competency of a physician-aided nurse to support the process of patient care with respect to organ transplant procedures. The test examines recall of required medical monitoring techniques and the application of those techniques to a variety of high-priority concerns.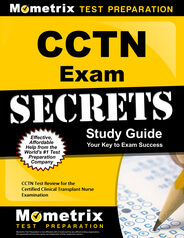 Prepare with our CCTN Study Guide and Practice Questions. Print or eBook. Guaranteed to raise your score. Get started today!
Successful passage of the CCTN exam requires an extensive knowledge of the physiology of the human body and its various systems, and the pathological conditions that may afflict donors and patients.
The CCTN exam consists of 150 items in a multiple-choice format. The questions are either of the best-answer type or the performance-level type. A basic requirement is knowledge of the parameters for collaboration with primary medical transplant teams in pre-transplant preparations. A total of 24 questions fall into this category.
In the preparation phase of organ transplant operations, the certified clinical transplant nurse must be familiar with the techniques for monitoring the patient for viability or diminishing life signs while awaiting further procedures. Blood product types are also covered in the test section pertaining to pre-transplant activities.
There are 80 questions in the content area of post-transplantation monitoring and maintenance. This content area includes evaluation of vital signs, pain, catheterization, drainage, dressings, weight monitoring, bleeding, and neurological signs.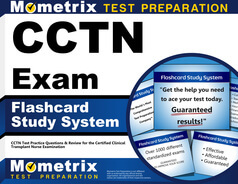 CCTN Flashcards. Proven CCTN test flashcards raise your score on the CCTN test. Guaranteed.
Post-transplantation lab-test procedures are basic to patient after-transplant care and monitoring, and figure heavily on the examination. The stages of wound healing and contraindications must be recognized in this section of the test, and the indications of complications due to grafting must be noted and recorded.
The CCTN examination has 29 questions on the administration of immunosuppressive drugs, including side-effects and interactions. The successful candidate must have a thorough knowledge of the range of drug therapies, including antimicrobials, analgesics, cardiovascular agents, postaglandins, insulin, and hypoglycemic medications.
Education and Discharge of the patient and family is an area of concern to which 12 questions are addressed. This area includes possible dialysis in the case of kidney transplants, and patient care in the areas of discharge instructions, fluid intake, monitoring of medications, and possible reactions to life events like travel, pregnancy, birth control, and diet.
The last section of the CCTN exam covers the professional responsibilities of the certified clinical transplant nurse, including research, continuing education, ethical issues, and legal guidelines. There are 5 questions in this content area.