The Certified Dietary Management (CDM) examination is designed to augment the qualifications of dietary managers who work with registered dietitians to provide high-quality nutritional care in nursing homes, schools, and similar institutional environments.
The testing is conducted by the American College Testing Corporation, but the certifying entity is the Certifying Board for Dietary Managers. Candidates who wish to obtain the certification must meet one of the following eligibility criteria:
Graduation from an approved dietary training program or school.
A two- or four-year community college degree in food services or nutrition, culinary arts, or hotel and restaurant management.
Graduation from a state-certified foodservice curriculum combined with two years of institutional foodservice management experience.
Current or former military personnel who have graduated from a military dietary training program and achieved the rank of at least E-5.
Certified Dietary Manager Practice Test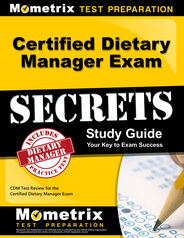 Prepare with our CDM Study Guide and Practice Questions. Print or eBook. Guaranteed to raise your score. Get started today!
There are 200 multiple-choice questions on the Dietary Management Certification exam. It is best to answer all questions, since only correct answers count toward your score. The CDM test will be scored on a pass-fail basis, and those who fail can take the CDM test repeatedly until they pass.
The test is administered with pencil and paper and scored on a computer, with the results sent approximately 6 weeks after the CDM test date.
The successful candidate for DMA certification will understand the processes of gathering and applying nutritional data from all sources and implementing a sustained and well-organized program to provide food safety and nutrition.
The consideration of each of these tasks comprises 8.5% of the CDM exam. The practical issues related to cooking and preparing foods in large-scale institutional settings comprises 10% of the CDM exam. 6.5% of the CDM exam is devoted to nutrition education.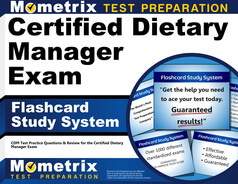 CDM Flashcards. Proven CDM test flashcards raise your score on the CDM test. Guaranteed.
The latter part of the CDM exam focuses on maintaining, operating, and staffing the facility. For instance, the hiring and supervision of personnel comprises 9% of the CDM exam. Effective communication with colleagues and staff makes up 8.3% of the CDM exam, and professional relationships and interaction accounts for 6.3%.
The management of supplies, equipment, and safety provisions makes up the largest content area (24% of the CDM exam). Management production (10.5%) and management of business operations (8.4%) make up the rest of the CDM examination.
Course Review
CDM Exam Iron Deficiency
CDM Study Guide
Explore our free CDM review provided by Mometrix. Check out our premium CDM study guide to take your studying to the next level. If you benefit from these materials, just click the link below! To compliment our CDM book, we also offer extensive CDM flashcards for even more CDM test prep help. We hope you enjoy our products! Your purchase helps us make more great, free CDM certification content for test-takers just like yourself.