The Certified Dietary Manager (CDM) exam is given to evaluate a candidate's ability to successfully perform the responsibilities of a Dietary Manager. Certified Dietary Managers are skilled at managing foodservice operations and ensuring food safety. The Certifying Board of Dietary Managers is responsible for the certification program and is accredited by the National Commission for Certifying Agencies (NCCA).
Who is eligible to take the Certified Dietary Manager exam?
Eligible candidates include those who have completed one of the following:
Graduated from an ANFP-certified foodservice manager training program.
Graduated from a two- or four-year college with a degree in an approved field that includes nutrition, foodservice management, culinary arts, or hotel restaurant management.
Graduated from a comprehensive food service course, with a minimum of 90-hours, and at least 2 years of non-commercial food service management experience.
Graduated from the classroom/online part of an ANFP-certified foodservice manager training program with 2 years of full-time foodservice management experience.
Individuals who currently or who formerly served in the U.S. military and who have graduated from an approved military food service training program.
Individuals who have graduated from an alternate two-year, four-year, or higher degree and have at minimum 5 years of institutional foodservice management experience and some related course work.
What will keep me from taking the exam?
Circumstances that will keep an individual from taking the Certified Dietary Manager exam include:
Not meeting the eligibility requirements.
Falsifying information on your application.
Violating registration.
Failing to submit proper documentation.
If your eligibility is denied, the Certifying Board for Dietary Managers provides candidates an opportunity to appeal.
How do I register for the Certified Dietary Manager exam?
You may register for the exam online. You will need to either create a new account or login. You will then be taken step by step through the registration process. You may also mail your application. However, be sure that you fill out all the necessary information. If your application is incomplete, you will be notified by e-mail requesting additional information.
After your application is received and you're determined to be eligible for the exam, you will receive an e-mail between 7-14 days from PSI letting you know that you can schedule your exam appointment. Candidates are scheduled on a first-come, first-serve basis.
How do I schedule my exam appointment?
You may register for the exam either online at the goAMP website or by phone at 888-519-9901. In order to get your preferred exam date, be sure to schedule your exam appointment as soon as possible.
When is the exam given?
The Certified Dietary Manager exam is given year-round, Monday through Friday by appointment only. If available, you may schedule a Saturday appointment.
How is the exam formatted?
The exam is computer-based and consists of 160 multiple-choice questions. 140 of these questions are scored while 20 of them are not and are used for future exams. You will have three hours to complete the exam.
Where is the exam given?
The exam is given at PSI testing centers. There are 300 PSI testing centers located throughout the United States. You may search for a location nearest you online.
What will exam day be like?
On the day of your exam, you will want to arrive at least fifteen minutes early. You will need to have with you two forms of identification. One will need to be current and government-issued, and contain your photo and signature. Personal items such as cellphones, purses, watches, wallets, and keys will not be allowed inside the testing room with you. Instead, a small locker will be provided to you.
When will I receive my test results?
Your test results will be available to you immediately upon completion of the exam.
What score do I need to get in order to pass?
Usually, a test-taker will need to score between 70% and 75% in order to pass the exam.
If I failed the exam can I retake it?
Yes. However, you will need to pay all necessary fees each time you retake the exam. You must also wait a total of 90 days from the time you last took the exam. You should use that time to study.
What will the exam test me on?
The Certified Dietary Manager exam tests you on the following topics:
Nutrition (18%): This section consists of topics that include gathering nutrition data; applying nutrition data; providing nutrition education.
Foodservice (20%): This section includes topics such as managing standardized recipes; specifying standards and procedures for preparing food; supervising the production and distribution of food; monitoring meal service; implementing continuous quality improvement procedures for foodservice department; and modifying standard menus.
Personnel and Communications (21%): This section contains topics including but not limited to defining personnel needs and job functions; interviewing, selecting, and orienting employees; providing ongoing education; developing and maintaining employee time schedules and assignments; managing goals and priorities for department; managing department personnel; managing professional communications.
Sanitation and Safety (24%): This section includes topics such as managing personnel to ensure compliance with safety and sanitation regulations; and protecting food in all phases of preparation using HACCP guidelines.
Business Operations (17%): This section includes managing a budget; preparing specifications for capital purchases; assisting in the purchasing process; and implementing cost-effective procedures.
What if I need to cancel or reschedule my exam?
If you cancel or fail to show up for your exam, then you forfeit all paid fees and no refunds will be given. You are allowed a one-time opportunity to reschedule your exam appointment within your 90-day testing window by calling PSI.
How can I study for the Certified Dietary Manager exam?
The Certified Dietary Manager exam is an easy exam to pass with the right study material. Mometrix Test Preparation has designed both a study guide and flashcards that offer detailed information as well as sample questions that give you the opportunity to apply what you're studying. The flashcards teach you through repetition while the study guide is great for an intense study session. Our content is easy to understand and will have you passing the Certified Dietary Manager exam with flying colors.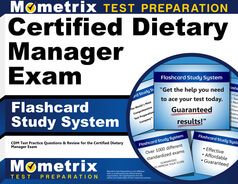 CDM Flashcards. Proven CDM test flashcards raise your score on the CDM test. Guaranteed.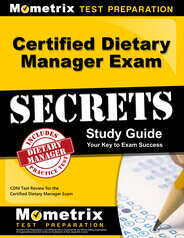 Prepare with our CDM Study Guide and Practice Questions. Print or eBook. Guaranteed to raise your score. Get started today!