If you're having problems with energy efficiency, you need a certified professional to provide guidance on how to improve your operation. That's the job of a Certified Energy Auditor. These professionals analyze how facilities use energy and develop plans for energy reduction or optimization. Obtaining the CEA designation shows that you're a top professional in your field. The CEA test is a tough one, requiring preparation and study materials to help you pass. Below you'll find a synopsis of the exam, as well as information on a study guide that can help you prepare.
Q
I'm interested in taking the Certified Energy Auditor exam. What are the eligibility requirements?
A
There are two sets of requirements candidates must meet to be eligible to take the exam.
Step one: Candidates must meet the following professional requirements and must have worked in a full-time, paid job.
At least two hours of safety training completed within the last three years
At least five commercial audits, two of which were at least 10,000 sq. ft

In both cases, the audits must have been performed on two different building types
Step two: Candidates must meet one of the following educational requirements:
3 years' related experience and a four-year degree in one of the following disciplines: engineering/architectural, professional engineer, or registered architect
3 years' related experience with Certified Energy Manager status
4 years' related experience and a four-year, unrelated degree
5 years' related experience and a 2-year associate degree
10 years' related experience, no educational requirement
Q
What's the test fee? Is there a retest fee?
A
The test costs $400, which includes a CEA application fee ($200) and exam fee ($200). The retest fee for candidates who need it is $200.
Q
How long do I have to complete the test?
A
The test time is four hours. The Certified Energy Auditor exam is an open book test.
Q
When should I arrive at the test enter? What are the test center rules?
A
Sign-ins start as much as one hour before the scheduled test time. Make sure to arrive early because candidates who arrive more than 30 minutes late won't be allowed to take the test, and they'll lose their test fees. Please bring a valid government-issued ID.
Electronic devices, such as cell phones and laptops, are prohibited, as are any devices that can take an image.
Q
What's on the Certified Energy Auditor exam?
A
The test has 10 different subject areas, as described below:
Developing an Audit Strategy & Plan — Tests knowledge in areas that include conversion factors in energy and power units; energy audit planning; pre-audit interview planning; drafting an audit report; and determining appropriate audit level.
Utility Analysis, Renewable Opportunities — Includes establishing a utility cost baseline; the ability to estimate savings potential; identifying billing errors; verifying energy bill calculations; and selecting optimal rate options
Data Collection & Economic Analysis — Includes energy accounting; collecting and defining pre-site and on-site data collection; detailed financial analysis; and computer simulations
Lighting Systems — Includes measurement of light; lighting power allowances; determining lamp types and characteristics; evaluating lamp lumen depreciation; and determining lamp types and characteristics
HVAC & Heating Systems — Includes HVAC basics, heat pump classifications and operations; calculating estimated heating & cooling loads; evaluating ductwork and fan systems; and analyzing the efficiencies of a heat pump or split system
Motors, Drives & Compressed Air — Includes calculating motors and drives efficiencies; auditing and determining the size of motors; improving a compressed air system; performing savings calculations; and upgrade evaluations
Ventilation Systems — Includes determining and auditing types of ventilation systems, and ventilation requirements and control options
Domestic Hot Water Systems — Includes efficiency calculations; temperature set point identification; and circulation pump evaluation
Building Envelope — Includes concepts of heat flow; R and U value determination; building envelope infiltration auditing; thermal weight; and point temperature balance.
Water Conservation — Includes conservation methods; rate structure determination; how to apply water conservation methods; and evaluating irrigation and landscaping installation and efficiency
Q
When will I know if I passed the test?
A
Candidates will receive a preliminary test result at the conclusion of the test. Candidates will receive their official test scores about 30 days after the exam. Once a candidate passes the exam it takes about 60 days to get the certification
Q
Is there a fee to become recertified?
A
Yes. It costs $300 to become recertified, and recertification happens every three years.
Q
This looks like a difficult test. What study guide will help me pass?
A
That's easy. Mometrix's study guide and flash card system will help you pass the Certified Energy Auditor. Both are written by professionals who know the details of test preparation. The study guide provides invaluable insight into the exam, with tips on how to correctly answer questions and avoid pitfalls that often hamper candidates. Our flashcards are a handy, portable study system that lets you test your knowledge anywhere, at any time. Both are invaluable tools to help you pass the test.
Certified Energy Auditor Study Guide
Explore our free Certified Energy Auditor review provided by Mometrix. Check out our premium Certified Energy Auditor study guide to take your studying to the next level. If you benefit from these materials, just click the link below! To compliment our Certified Energy Auditor book, we also offer extensive Certified Energy Auditor flashcards for even more Certified Energy Auditor test prep help. We hope you enjoy our products! Your purchase helps us make more great, free Certified Energy Auditor certification content for test-takers just like yourself.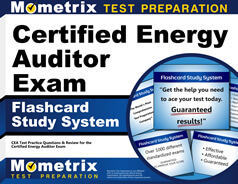 Real Certified Energy Auditor Flashcards. Proven Certified Energy Auditor test flashcards raise your score on the Certified Energy Auditor test. Guaranteed.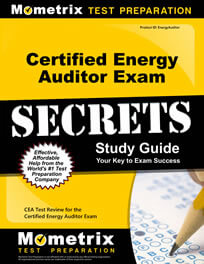 Prepare with our Certified Energy Auditor Study Guide and Practice Questions. Print or eBook. Guaranteed to raise your score. Get started today!