Medical coders are another essential part of our health care system. These professionals input codes based on several factors, including patient diagnosis and insurance reimbursement purposes. The best of the best have taken and passed the Certified Coding Associate (CCA) exam.
This certification is administered by the American Health Information Management Association (AHIMA), which says more than 8,000 professionals have received this designation. The exam has several challenging parts, which means candidates need an excellent study guide to help them prepare for the test.
Q
What training should candidates have before taking the Certified Coding Associate exam?
A
The AHIMA recommends candidates have six months of coding experience or completed an approved coding program. However, these are recommendations, not requirements.
Q
How much are the exam fees?
A
Candidates who hold a premier AHIMA member pay $189.05. Members pay $199. Non-members pay $299.
Q
How many questions are on the exam?
A
There are 100 total questions on the test. Of those, 90 are scored and 10 are not.
Q
How much time do I have to complete the exam?
A
The total test time is two hours.
Q
What's on the Certified Coding Associate exam?
A
The exam has six different domains, or content areas.
Clinical Classifications Systems contains roughly one-third of the questions on the exam and is the test's largest section. Topics include applying and assigning inpatient, outpatient, and physician coding guidelines; using reference materials for code assignment; and health care data interpretation for code assignment.
Reimbursement Methodologies contains about 20 percent of the exam's questions. Topics include correctly assigning DRG and APC; claim denial issues, such as claim evaluation, responding to claim denials, and resubmitting denied claims; and communication with financial departments and physicians.
Health Records and Data Content can contain as much as 17 percent of the test questions. Topics include medical records retrieval; assembling and analyzing medical records; data abstraction performance; and patient information and documentation, including document and patient information retrieval.
Compliance can contain as much as 16 percent of the exam questions and cover topics that include coded data and supporting documentation discrepancies; code validation; research and implement coding changes; external audit assistance; and fee/charge ticket updating.
Information Technologies can contain up to 10 percent of questions. Topics include HER navigation; utilizing software for encoding and grouping, practice management, and CAC software; and code validation.
Confidentiality and Privacy can also contain up to 10 percent of questions. Topics include patient confidentiality; privacy and confidentiality education; passcodes utilization; document protection; retaining or destroying records; and electronic document transfer.
Q
Where can I take the test?
A
The AHIMA has hired a private company to deliver the exam to candidates. The company as hundreds of test centers across the United States.
Q
What identification will I need to show on test day?
A
Candidates are required to present two forms of identification. The primary form must be a government-issued ID that contains a photo and signature. Acceptable forms of ID include a passport, driver's license, and military ID. The secondary form must contain the candidate's signature. A credit card or social security card are examples of acceptable forms of ID.
Q
What items are banned from the test room?
A
All personal items are banned from the test room. That includes mobile phones, electronic devices, some clothing items and much more. It's best to consult the test rules for a full list of prohibited items.
Q
What is the Certified Coding Associate exam's passing score?
A
The test converts the raw score into a scaled score of 100 to 400. The passing score is 300.
Q
When will I receive my test score?
A
Candidates will receive their score at the test center at the conclusion of the exam.
Q
Can I retake the exam if I fail it?
A
Yes. Candidates may retake the exam provided they wait at least 90 days after their previous attempt and pay all fees.
Q
What are the best study materials I can buy for the Certified Coding Associate exam?
A
You want the study materials from Mometrix. The materials have been written by professionals in the test-taking field who know how to prepare candidates for these exams. Our study guide has comprehensive overviews of dozens of subjects, including assigned codes, diagnosis codes, submitting claims, health data standards and so much more.
Our flashcards are an easy and convenient study tool. Take them with you anywhere you go and study even if you have just a minute. These are the study materials that can best help you prepare for this exam.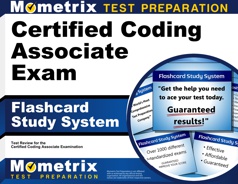 CCA Flashcards. Proven CCA test flashcards raise your score on the CCA exam. Guaranteed.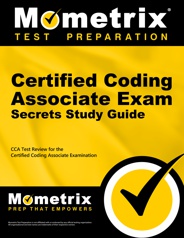 Prepare with our CCA Study Guide and Practice Questions. Print or eBook. Guaranteed to raise your score. Get started today!