The Certified Energy Manager Exam is a certification examination written and administered by the Certified Energy Manager Board that is designed to determine if an individual possesses the skills and knowledge necessary to receive the Certified Energy Manager (CEM) credential.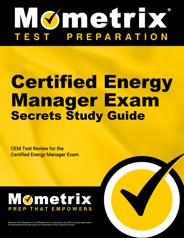 Prepare with our CEM Study Guide and Practice Questions. Print or eBook. Guaranteed to raise your score. Get started today!
The CEM credential is not necessarily required to work as an energy manager, but it can be extremely useful as a resume-builder for individuals seeking positions in the energy management field as it demonstrates to potential employers that the individual has an in-depth knowledge of the laws, standards, common practices, and concerns associated with energy management.
This exam assesses the individual's knowledge of general energy topics such as energy codes and standards, indoor air quality, energy accounting, energy economics, energy audits, and energy instrumentation. It also examines the individual's knowledge of a variety of specialized topics related to energy management.
The CEM exam is an open book exam that consists of a large number of multiple-choice questions that are split into 17 sections. The exam-taker is not required to complete every section of the CEM exam, but is instead required to take the first three sections of the CEM exam, which includes the general topics mentioned above, and must choose and complete 8 additional sections from the 14 specialized sections offered.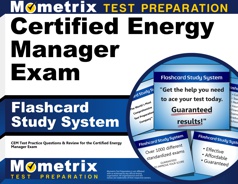 CEM Flashcards. Proven CEM test flashcards raise your score on the CEM test. Guaranteed.
The specialized sections offered on the CEM exam include alternative financing, boiler and steam systems, building automation and control systems, building envelope, cogeneration and CHP systems, electrical systems, energy procurement, green buildings, HVAC systems, industrial systems, lighting systems, maintenance and commissioning, motors and drives, and thermal energy storage systems.
The exam-taker will have four hours to complete the CEM exam and the exam is scored on a scale of 0 – 1040 with 704 set as the minimum score required to pass the CEM exam. Each question on the CEM exam is worth 8 points, but points will only be awarded for correct responses made within the first 3 sections of the CEM exam and the first 8 additional sections marked by the exam-taker.
In order to register for the CEM exam, the individual must have a bachelor's degree or higher from an engineering program and at least 3 years of experience in energy engineering or management, a bachelor's degree or higher from a business program and at least 5 years of experience in energy engineering or management, an associate's degree from a technical program and at least 8 years of experience in energy engineering or management, or 10 years of experience in energy engineering or management. The registration fee for the CEM exam is currently $200.
Certified Energy Manager Exam Overview
Certified Energy Manager Study Guide
Explore our free Certified Energy Manager review provided by Mometrix. Check out our premium Certified Energy Manager study guide to take your studying to the next level. If you benefit from these materials, just click the link below! To compliment our Certified Energy Manager book, we also offer extensive Certified Energy Manager flashcards for even more Certified Energy Manager test prep help. We hope you enjoy our products! Your purchase helps us make more great, free Certified Energy Manager certification content for test-takers just like yourself.