The Certified Diabetes Educator Exam is given by the National Certification Board for Diabetes Educators (NCBDE) and is given to those wanting to become a Certified Diabetes Educator. Obtaining your credential shows that you possess the necessary knowledge to be a successful Certified Diabetes Educator.
Q
What does a Certified Diabetes Educator do?
A
A Certified Diabetes Educator possesses the skills and knowledge needed in diabetes prevention, prediabetes, and diabetes management. Their responsibilities include educating, supporting and advocating for people diagnosed with diabetes.
Q
Who is eligible to take the exam?
A
Those eligible to take the exam must have a current, active, unrestricted license or certification from one of the United States or its territories as a:
Registered Nurse (Including a Nurse Practitioner or CNS)
Occupational Therapist
Clinical Psychologist
Optometrist
Physical Therapist
Pharmacist
Podiatrist
Physician (M.D. or D.O.)

Certifications:

PA holding active registration with the NCCPA.
Health educator who has acquired an active certification as a Master Certified Health Education Specialist from the National Commission for Health Education Credentialing.
Exercise physiologist who has acquired an active certification as an American College of Sports Medicine Certified Clinical Exercise Physiologist.
Dietician or dietician nutritionist who holds an active registration with the Commission on Dietetic Registration.

Healthcare professional with at least a master's degree in social work from a college within the United States or university that's accredited by a nationally recognized regional accrediting body.
Professional Practice Experience:
In order to qualify for the exam, an individual must satisfy both of the following:
At least 2 years of professional experience in their discipline.
A minimum of at least 1000 hours of diabetes experience. Keep in mind that at least 400 of these hours need to be accrued in the most recent year preceding the application.
Continuing Education:
In addition to the discipline requirements, a candidate must also meet the following continuing education requirements:
At least 15 clock hours of continuing education activities that relate to diabetes within two years prior to applying for the exam.
Q
How can I apply for the exam?
A
In order to apply for the exam, you must either fill out an online application on the goAMP website or fill out a paper application and mail it to PSI. Once the application is approved, you will have 90 days to schedule and take the exam.
Q
How much is the application fee?
A
The fee for the application is $350 paid by credit card, money order, or check. The cost of renewing your certification is $250.
A
After you send in your application and it is confirmed, you are given the opportunity to request the following:
Transfer of your application to a new 90-day testing window. There is a $100 transfer fee for this.
You may request to withdraw from the examination with a refund minus the $100 non-refundable processing fee. Keep in mind that this option is only available under dire situations which includes either a medical emergency of either the test-taker or a family member.
Q
Where will I be taking the exam?
A
The exam is given at PSI testing centers located throughout the country. The exam is given Monday through Saturday by appointment only.
Q
How can I schedule an exam appointment?
A
You may schedule an exam appointment online on the goAMP website or by contacting PSI at 888-519-9901. If you need to reschedule your exam appointment you may do so only once during the 90-day testing window. However, it must be done at least two days before your scheduled exam.
Q
How is the exam formatted?
A
The exam is computer-based and consists of 200 multiple-choice and objective questions. You will have 4 hours to complete it.
A
The exam is scored on a scale from 0 to 99. In order to pass a candidate will need to score at least a 70.
Q
If I fail the exam can I retake it?
A
Yes. There is no limit to how many times a candidate may take the exam as long as they meet the eligibility requirements.
Q
What can I expect on the day of the exam?
A
On the day of the exam, you will want to arrive at least 30 minutes early. You will need to provide two forms of identification. One will need to be government issued, current and contain your signature and photo. Calculators are permitted as long as they are non-programmable. Personal items such as cellphones, purses, and study material will not be permitted inside the testing room with you. However, you will be provided with a soft locker to store your wallet and keys. If you need a break, you can take one at any point, but keep in mind that you will not be provided any extra time.
Q
What will I be tested on?
A
The CDE exam will test you on topics including:
Assessment of Diabetes and prediabetes (60 questions)

Assess learning/self-care behaviors (20 questions)
Assess medical/Health/Psychosocial and Economic Status (20 questions)
Assess Current Knowledge and Self-Management Skills (20 questions)

Interventions for Diabetes and Prediabetes (89 questions)

Collaboration with Patient/Family/Caregiver/Healthcare Team (16 questions).
Teach/Counsel Regarding Principles of Care (50 questions)
Evaluate, Revise, and Document (17 questions)
Referral and Follow-Up (6 questions)

Disease Management (26 questions)

Education and Program Standards (8 questions)
Clinical Practice (16 questions)
Engage in Diabetes Advocacy (2 questions)
A
If you miss your exam appointment, you will forfeit all fees. To reapply, you will have to fill out a new application and pay all necessary fees.
Q
How can I study for the CDE exam?
A
Mometrix is a great study resource for candidates about to take the Certified Diabetes Educator exam. Mometrix provides both a study guide and flashcards that are designed to help a test-taker pass their exam the first time that they take it. If you want to score high on your exam, then you want to go with Mometrix.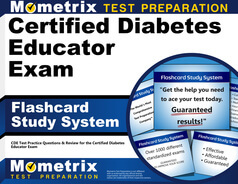 CDE Flashcards. Proven CDE test flashcards raise your score on the CDE test. Guaranteed.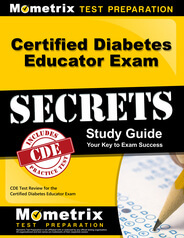 Prepare with our CDE Study Guide and Practice Questions. Print or eBook. Guaranteed to raise your score. Get started today!