The Certified Diabetes Educator (CDE) is a healthcare professional who specializes in caring for patients who have been diagnosed with diabetes. Most of the care is focused on educating the patient on the proper management of their diabetes. This involves addressing not only the medical management of the disease, but also the dietary and lifestyle changes that are made with diabetes.
CDE Test Study Guide with Practice Questions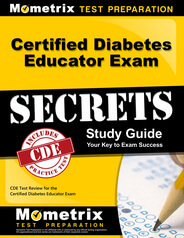 Prepare with our CDE Study Guide and Practice Questions. Print or eBook. Guaranteed to raise your score. Get started today!
In order to become a Certified Diabetes Educator, the applicant must be a licensed nurse, pharmacist, physician, dietitian, or other eligible healthcare provider. The applicant must have worked at least 2 years in diabetes education, as well as complete at least 1,000 hours in providing diabetes education and currently be working in a role as a diabetes educator.
The Certified Diabetes Educator Exam is offered twice a year, generally Spring and Fall. The CDE exam fee for the initial certification is $350. To renew the certification, the cost is $250. The CDE exam is offered in every state, including Alaska and Hawaii, in various cities.

CDE Flashcards. Proven CDE test flashcards raise your score on the CDE test. Guaranteed.
The Certified Diabetes Educator Exam is made up of 200 questions and 4 hours are allotted to complete the CDE exam. Twenty-five of these questions are control questions to test for future CDE exams.
The CDE exam contains questions pertaining to assessing the patient with diabetes, along with questions regarding formulating a treatment plan for the patient. Barriers to educating the diabetic patient are addressed, as well as addressing the lifestyle changes that should be changed.
Certified Diabetes Educator Exam Practice Questions
To maintain Certified Diabetes Educator certification, the healthcare professional can retake the CDE exam or complete continuing education materials every 5 years. At least 75 hours of continuing education activities should be completed in the areas of diabetes management and education. Starting in 2010, renewal of the Certified Diabetes Educator credential will require that at least 1,000 hours of direct patient care relating to diabetes education has been completed over the certification period.
CDE Study Guide
Explore our free CDE review provided by Mometrix. Check out our premium CDE study guide to take your studying to the next level. If you benefit from these materials, just click the link below! To compliment our CDE book, we also offer extensive CDE flashcards for even more CDE test prep help. We hope you enjoy our products! Your purchase helps us make more great, free CDE certification content for test-takers just like yourself.
Certified Diabetes Educator Review