In order to become certified as a flight nurse, you must pass the Certified Flight Registered Nurse (CFRN) exam developed by the Board of Certification for Emergency Nursing. This exam was designed to identify those practitioners who have attained a high standard of service in a specialized area of nursing. The exam contains 175 multiple-choice questions.
The CFRN exam can be broken down into the following five main content areas: single system emergencies; multi-system emergencies; patient management; safety issues; and professional issues.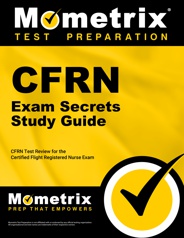 Prepare with our CFRN Study Guide and Practice Questions. Print or eBook. Guaranteed to raise your score. Get started today!
The single system emergencies section typically breaks down as follows:
cardiopulmonary (27 items)
gastrointestinal and genitourinary emergencies (11 items)
maxillofacial and orthopedic emergencies (8 items)
neurological emergencies (17 items)
The multi-system emergencies section typically contains questions on the following topics:
environmental emergencies (9 items)
general/medical emergencies (9 items)
The patient management section typically contains questions on the following topics:
patient care (12 items); advanced airway care (9 items)
respiratory (7 items)
shock and trauma (7 items)
substance abuse and toxicological care (3 items)
transport considerations (6 items)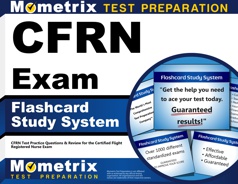 CFRN Flashcards. Proven CFRN test flashcards raise your score on the CFRN test. Guaranteed.
The section on safety issues will typically contain questions on the following topics:
safety (9 items)
disaster management (3 items)
survival (4 items)
Finally, the professional issues section will typically contain questions in the following content areas:
legal issues (3 items)
organizational issues (3 items)
atient and community education (3 items)
To register for the CFRN exam, fill out the application on the BCEN website.
Once your application has been approved, you will have a ninety-day window within which you must complete the exam. The CFRN exam is administered via computer by Applied Measurement Professionals at locations around the country. On your exam date, you will not be allowed to bring a calculator or cellular phone into the testing area.
After you have completed your exam, you will receive an immediate score report from the test administrator. If you pass the CFRN exam, your certification will be valid for a period of four years.