The Certified Health Education Specialist examination (commonly known as the CHES exam) was developed by the National Commission for Health Education Credentialing. This test is appropriate for people who aspire to become health educators or advocates. The CHES exam is not mandatory but can be a useful tool for professional advancement. Many employers take CHES certification into consideration when making hiring decisions.
The test format is fairly simple: you will have three hours to answer 165 multiple-choice questions. The minimum passing score varies slightly depending on the difficulty of the test version. For most versions of the CHES exam, a 94 or 95 is required to pass.
The exam questions are based on the Seven Areas of Responsibility of Health Educators: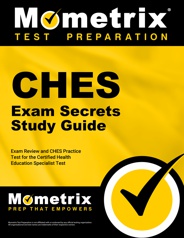 Prepare with our CHES Study Guide and Practice Questions. Print or eBook. Guaranteed to raise your score. Get started today!
Assessment of Needs and Capacity (17%)
Planning (13%)
Implementation (15%)
Evaluation and Research (12%)
Advocacy (12%)
Communication (12%)
Leadership and Management (6%)
Ethics and Professionalism (12%)
The CHES exam is offered twice a year, in April and October. Before you register, check out the eligibility requirements.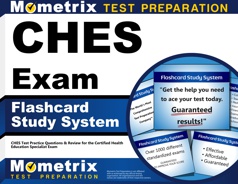 CHES Flashcards. Proven CHES test flashcards raise your score on the CHES test. Guaranteed.
In order to take the exam, you must have a bachelor's, master's, or doctoral degree from an accredited institution of higher learning, and either an official transcript showing a major in health education or an official transcript indicating at least 25 semester hours or 37 quarter hours of course work in health education.
These requirements ensure that the CHES exam is administered only to those who are capable of obtaining a job in health education or advocacy.
CHES Study Guide
Explore our free CHES review provided by Mometrix. Check out our premium CHES study guide to take your studying to the next level. If you benefit from these materials, just click the link below! To complement our CHES book, we also offer extensive CHES flashcards for even more CHES test prep help.
We hope you enjoy our products! Your purchase helps us make more great, free CHES certification content for test-takers just like yourself.