In order to sit for the Child Life Specialist certification examination, one must have the preliminary qualifications of a Bachelor's or Master's degree in the area of human growth and development, education, psychology, or counseling. An internship program is also required.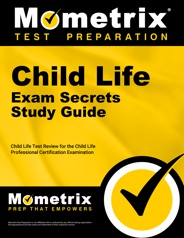 Prepare with our Child Life Study Guide and Practice Questions. Print or eBook. Guaranteed to raise your score. Get started today!
The examination contains 150 questions in a multiple-choice format, and is administered twice a year. The spring test is typically scheduled in May or June, and the fall examination date is in the middle of November.
The questions on the test require the test taker to exhibit a range of knowledge with respect to child development processes and to apply theories of child development to practical challenges faced by children and families. The candidate is given four hours to complete the 150 multiple-choice questions.
Test takers who successfully pass the test and meet all other eligibility requirements will receive a certificate valid for a five-year period before recertification is required.
The Child Life Specialist exam is scored on a pass-fail basis. Results will be available and mailed to test takers within a period of four to six weeks. Those who fail the test may take it as many times as they wish until they receive a passing score.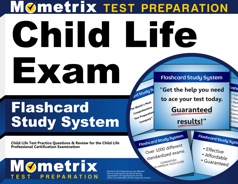 Child Life Flashcards. Proven Child Life test flashcards raise your score on the Child Life test. Guaranteed.
The content of the Child Life Specialist examination is concentrated in three fundamental areas: Assessment, Intervention, and Professional Responsibilities. While the exam questions may change with each successive administration of the test, the proportional content will remain roughly the same, with 31% (47 questions) devoted to Assessment, 44% (66 questions) devoted to Interventions, and 25% (37 questions) devoted to Professional Responsibility.
There is an even distribution of questions within the Assessment domain, with a focus on diagnosis, future outlook, and the formulation of treatment plans. Observation of family dynamics is a vital component in obtaining data to this end. Questions may be posed regarding the diversity issues that may assist or impede treatment. Additional questions emphasize the importance of family-centered treatment.
The largest number of questions is in the area of active intervention. This component of the test measures the examinee's aptitude in applying theory to practice and to leverage coping strategies into the family dynamic to promote positive development. Intervention mapping is also a significant part of this section, with an emphasis on the documentation of progress or setbacks in treatment.
No less important is the third and final area of the test, Professional Responsibility. The examinee must be familiar with ethical and legal standards within the context of family counseling and therapy.